Diving into Symphony SPARC: Innovations and Solutions for Financial Services
During our first-ever digital conference, Goutam Nadella, EVP of Client Services at Symphony, showcased the latest iteration of SPARC, Symphony's solution to streamlining pre-trade workflows. Then, Goutam was joined by Matt Howell, Global Head of Derivative and Multi-Asset Trading Solutions at T. Rowe Price and Brian Malthouse, Head of Digital Product for Equities at J.P. Morgan to discuss the impact on the financial services industry, the technology's next chapter as it extends into its next asset class, and how T. Rowe Price and J.P. Morgan have adapted to increased volumes of RFQs during COVID-19.
Read the full transcript of the conversation below: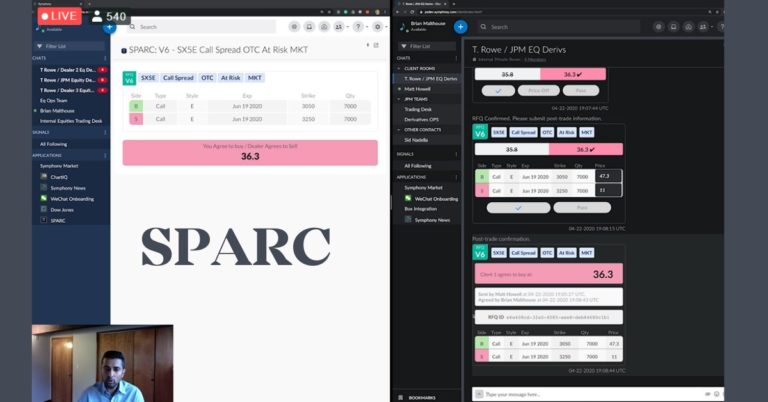 Goutam Nadella, EVP, Client Services, Symphony:
Okay, so let's talk about workflow solutions in capital markets. I would like to start by talking about what we launched at Innovate New York in October. We launched SPARC for interest rate products, pre-trade workflows, really with the idea of bringing efficiency to what are manual and unstructured workflows in OTC products, starting with interest rate products.
The core idea of SPARC being that we would deliver on the promise of automation across four key pillars. The first one being structure, introducing structure into what are manual chat-based workflows, and then on top of that, building standardization across the Symphony community in collaboration with our clients, and then using that structure and standardization to deliver API, it will ultimately enable both buy sides and sell sides to automate that workflow. In addition to that, we also highlighted the ability for SPARC to provide the APIs to audit such workflows and help our clients fulfill their compliance requirements.
Since that launch, we're very excited to say that we've seen a lot of demand for SPARC, not just in interest rate products, but in many such other OTC products where trading is still manual or voice-based. To respond to that demand, the SPARC team has been really busy on two fronts, in not only growing the community of users on SPARC, but also in extending SPARC into a platform that can be extended into other asset classes as well as fulfill all of our clients' pre-trade workflow needs, from sourcing liquidity to price negotiation to achieving STP through post-trade automation.
We're excited today to announce the next chapter in SPARC's evolution, an important milestone as we extend SPARC into our next asset class, equity derivatives. I would like to showcase to you some of the enhancements to SPARC, starting with interest rate products as well as demonstrate an end-to-end workflow of an RFQ negotiation in equity derivatives.
With that, let's go over to looking at the demo. All right, so let me orient you around the screen you see here. What you see here is your typical Symphony set up with the left nav on the left with a number of different chat rooms. The middle pane is the SPARC application that you all know and have seen at October Innovate, and a number of our clients are familiar with it today. On the right, you see the bilateral chatroom between JP Morgan and T. Rowe Price. Now when I click on the product drop down inside SPARC, I not only see interest rate products, but I also see equity options. As we said, SPARC now will be a multi-asset platform and we hope to add many other products in the near future, in addition to the asset classes you see there.
One of the key enhancements, in addition to extending into other asset classes, a number of our buy side clients have asked for is the ability to copy paste products into SPARC. As a lot of you will be familiar if you've used SPARC or if you've seen SPARC in October last year, the idea of SPARC is to standardize the data format in which RFQs are entered. You see an example here of Matt, the trader at T. Rowe Price, typing in an interest rate swap by using SPARC's product entry screen and entering all the different parameters in SPARC's native format. Now you can do that, and a number of our clients do that today, but other advisors have also asked for the ability to copy paste this trade, as you've just seen here.
What you see here is Matt copy pastes an interest rate swap for 97 million Swedish Krona, 5 year forward, starting 10 year swap, clearing at LCH. What SPARC's smart parser has done is parse that screen and all of the different parameters into what it recognizes, what it ensues, and what is unrecognized. In this case it's a text instruction that Matt typed in that's a standard convention space. The idea here being essentially parsing a copy-pasted screen into SPARC's native format. Now Matt can choose to acknowledge and agree with SPARC's smart parser or he can go down into the bottom part of the screen and choose to modify any of these parameters. That provides the flexibility for Matt to enter them in different formats. You've just seen Matt accept the format and the parsing that SPARC has done.
What that does is it allows the buy sides to enter RFQs in multiple formats. You've just seen two, which is to type them inside SPARC or copy paste them, but you can also do that in an API. Many advisors would like to enter these straight from their OMS or EMS. You can also bring them through an Excel or CSV file. All of that will ultimately be normalized to SPARC's native format, which means the cell sites can achieve automation in how they respond to these RFQs across all of the counterparties using SPARC's APIs and standard data formats. As we spoke about before, the beginning of all automation is standardization, and that is what we hope to achieve through SPARC's smart parser.
Now, instead of going through a full RFQ workflow for interest rate swaps, which you've already seen at Innovate October, I would like to show you today a full RFQ demo for an equity derivatives product. Let me orient you through the screen here. Again, in the middle pane you see the SPARC application, and the light team. Remember that will be a buy side view, Matt's view at T. Rowe Price. On the right side, you see a bilateral chat room between JP Morgan and T. Rowe Price, between Matt and Brian at JP Morgan. That is in the dark team. The sell side view is in the dark team. The light team is the buy side view with the SPARC application. Remember that the bilateral room is shared between Brian and Matt.
Again, when you click on the product drop down here, you now see equity options, in addition to interest rate products. We're starting off with OTC options, but we will be adding listed products as well and other products like total return swaps in the near future. What you'll see now is an example hopefully of Matt entering an equity derivatives RFQ. There you go. He enters a Euro stock 50, index swap, he's entering an option strategy, which is a call spread. You've just seen him enter the spread parameters or the RFQ parameters at an RFQ level as well as the leg level strike and quantities. If you notice, the legs are laid out according to the strategy that was chosen. We will support other strategies such as straddles and strangles and the legs will be laid out accordingly.
Again, just to remind you, this is just an example of how you can do it on the screen here, but you can do this through an API, just as we spoke about before. You can also ring some of these custom strategies for OTC derivatives via Excel or a CSV file. Again, all of that will get normalized to SPARC's native format by the time it goes across to the sell side. What you're starting to see now is Matt actually picking his dealers now that he's defined the RFQ parameters. You'll see he will start to enter his dealers. Again, remember, all negotiations are bilateral. Even though he picks multiple dealers, ultimately they're all negotiated in bilateral chat rooms. Here you see Matt pick three different dealers, starting with JP Morgan. He's just clicked send, which would send that RFQ into his bilateral chat room with JP Morgan and other dealers.
Now let me draw your attention to the right side and the dark team. You see the RFQ in the T. Rowe Price and JP Morgan chat room. At the top, you see … First of all, the RFQ is laid out in a very structured format, as you see, as opposed to text, how people are used to doing it in regular chat today. What that allows us to do is clearly lay out the RFQ details on the top and the leg level details. You've just seen Brian acknowledge the RFQ using the button. Now that he's acknowledged the RFQ, which by the way is reflected in the SPARC app, all three dealers are pricing, if you notice. Brian is starting to enter the bid and the offer on the right side in the bilateral chat room within that structured object. He's also entered the delta percentage and has submitted his response back. That is, again, as opposed to typing a command line today, what people are used to.
On the left hand side in the SPARC app, you start to see the power of SPARC. You see all the dealer responses aggregated in a single place, as opposed to navigating multiple different chat rooms. The way people do it today on the buy side to see all the dealer responses, you can see them all in a single place. You can see the RFQ details at the top. You can also see the best bid and offer across all of your dealers in a single place, again, without having to navigate multiple chat rooms. You also see the individual prices and also clearly highlighted any best bid and offers across the dealers. We will also highlight any ties, should there be any ties in the pricing.
In addition to the ability to aggregate prices across all of the dealers, we've also added a couple of significant enhancements to SPARC, the first one being the ability to ask for a price refresh for an inflight RFQ with the click of a button, and also the ability to add dealers for an inflight RFQ. You can imagine in today's volatile times and markets where volumes are very high, that adds a tremendous amount of value.
You've just seen Matt now accept the price. This is a two way RFQ. He's just accepted the price, and that price he's accepted is reflected back again in the bilateral chatroom to Brian, who sees Matt's response, and Brian has the ability to accept that price, switch off the price, or pass. Remember, all pricing in SPARC is indicative. In this case, he is choosing to accept the price. The dealer always has the last look, right?
Brian has accepted the price. Now he can enter the leg level prices. Obviously, in these products, depending on the … Here, he's priced delta at risk, so he's going to enter the prices right away, but he can also choose to enter the leg level prices at a later time. Once he's entered the leg level prices, Brian hits submit, and then he should also see a post-trade confirmation, which essentially not only shows the price at which the RFQ was negotiated, it also shows the RFQ ID, which is a unique RFQ ID across all of their RFQs, which again, allows both sides to track this RFQ and all of the negotiations for this RFQ, and stitch them together through our API for compliance or audit purposes. That view in that bilateral room, by the way, is both sides seeing the same view, which again, makes sure they both essentially agree to the price and all the details of the RFQ.
What you've just seen is an example of an end-to-end transaction of how you can exchange an RFQ using SPARC. We've also seen some enhancements that we've made to interest rate products. Ultimately, our vision for SPARC is to deliver end-to-end automation, and whether it's SPARC's smart parser or some of the enhancements that you've seen in the form of equity derivatives and the ability to trade equity derivatives, go towards that vision. We certainly hope to extend that to many other asset classes as well as into workflows around sourcing liquidity and distributing liquidity in addition to pricing and RFQ type of workflows.
With that, I would like to actually invite two special guests you've just seen operate in the background, Matt Howell from T. Rowe Price and Brian Malthouse from JP Morgan. Brian and Matt have been joint development partners for us and certainly very instrumental in shaping SPARC into the product it is today. Matt, I would like to start off by asking you a question around how your workflow looks today in equity derivatives. Can you talk to some of the pain points you see in equity derivatives and how you deal with those pain points and how you see the market infrastructure or lack thereof in the space?
Matt Howell, Global Head of Derivative and Multi-Asset Trading Solutions, T. Rowe Price: Sure. Thanks for having me here, Goutam. As you can see, I'm calling you from a rather empty office in London. If I look at OTC equity derivatives at T. Rowe Price, we've seen significant growth over the last four to five years. We're looking at double digit growth, as we've seen increased demand from our investment team and the wrappers that our clients are asking us to put their products in. What's happened over that time is that our processes haven't really grown with the business. We're seeing increased volumes into a process which is that classic voice/chat RFQ process. You've got an inefficient, manual, time-consuming and risky process that is currently growing at double digit figures. We really think that Symphony can play a role in simplifying that workflow, giving us a path to automation. We're already using Symphony for execution with one of our counterparties and that's significantly helping, but if we can get to a place where we can get multi-lateral RFQ, that makes a big difference to us.
G. Nadella: Sure. We love to hear that. We're certainly very excited that we can extend your Symphony workflows into more structured and automated for some of these products. It does feel like a whole lot to deal with, especially in these market conditions. Brian, now over to you, from your vantage point at JP Morgan, certainly you see a very broad spectrum of asset classes, everything from extremely manual to very electronic. I, myself coming from equities, am still amazed at how much of these asset classes are still traded in chat. What do you see from a JP Morgan perspective as some of the key pain points in equity derivatives? Also, what are hearing from the other side?
Brian Malthouse, Head of Digital Product for Equities, JP Morgan Chase: Sure, yeah. Thank you, Goutam. At JP Morgan, what we typically hear from our clients is that they really like the human interaction of talking to a JP Morgan salesperson. It's exactly the same on the dealer side. It's really important for us that we maintain our direct communication with our clients and keep that direct connectivity, but at the same time, we're very keen to progress the automation agenda in order to improve our own processes and provide scale and efficiency to what we do. Now thinking about SPARC, that really provides a great solution for that because it is that hybrid. It combines the chat-based human interaction along with that structured workflow, and as such, we think it's a very powerful combination.
G. Nadella: That's great to hear. Certainly JP Morgan's been a big champion for Symphony and we appreciate you contributing, extending that into SPARC and automation and some of these workflows. Matt, back to you, obviously the current market conditions are tough for everyone, and obviously, given the current market conditions, I'm sure some of these pain points have only gotten amplified. How are you adapting to working in a distributed manner and the increased volatility in the market? How do you see tools like SPARC changing that in the future?
M. Howell: When I think about the current environment, I think almost of it like as an amplifier. If a process is inefficient in a normal environment, it's even more inefficient in this environment. You really feel that extra few minutes that it takes. That's making a real difference to not just our traders' ability to source liquidity in OTC equity derivatives, but also there's a knock-on impact into the other orders on the desk. We're dealing with significantly elevated volumes of trades coming through on the desk, significantly elevated volatility in the market, and we're working in a remote environment. Anything that we can use in an environment like this to ease those pressures and allow our traders to really focus on their highest and best purpose has got to be worthwhile.
The advantage Symphony has for us here in that space is it's already on our traders' desktops. We use it internally, we're talking to PMs, we're talking to analysts, we're talking to the rest of the trading team. In fact, it's been pretty critical to our operations through this working from home dislocation. Having the desktop real estate benefits, having the communication all in one place, that's a significant value proposition from SPARC.
G. Nadella: Sure. Again, we're very happy to be able to add value and help our clients in this moment of crisis. Certainly, one thing I've heard from you a lot is the idea of human collaboration here. It's not all about automation. There is collaboration across different people, and that's where Symphony really shines, the idea of automation laid in with the collaboration that Symphony provides. Now Brian, JP Morgan, obviously across the entire firm Symphony is used a lot, and certainly across all of capital markets. As you adapt to the new normal and deal with some of the volatility, how is your use of Symphony changing and how do you see tools like SPARC getting valued from a sell side perspective?
B. Malthouse: Like most firms, JP Morgan currently has people working in numerous locations, different offices in different cities, but also many people working from home, as I am today. Therefore, tools like Symphony, which enable good communication, both with our internal colleagues, but also with our clients, are increasingly relevant and important. The other thing I'd say is that at JP Morgan, that our digital strategy includes two key themes. One is how we're driving scale and efficiency through increasing end-to-end automation, which I covered earlier. Secondly, it's around how we're enhancing connectivity with our clients through digital distribution channels. What I'd say is likely similar to Matt's response. During times of market disruption and increased volatility, these themes become even more relevant and important so that we can handle the volume and the fast markets efficiently with our systems. I'd say SPARC, as a project, is very much in line with the elements of that strategy and we think it can add value in terms of increasing standardization and improving that connectivity with clients.
G. Nadella: Thank you, Matt and Brian, for joining me today in this discussion on pre-trade workflows and the evolution of SPARC. I'm certainly very excited and grateful for both of you being joint development partners in helping shape this product. We're excited to take this to market in collaboration with you and many of our other joint development partners.
M. Howell: Thanks, Goutam.