Making the Digital Workplace Work at Symphony Innovate Asia 2019
Yesterday, Symphony celebrated its second Innovate Asia, an event that brought together over 300 executives, developers, and industry experts from 120+ different companies across the APAC community to discuss the new digital workplace, share innovations, and hear about what's next for Symphony.
This was a landmark day. We not only announced our latest successful fundraise, including new investments from key partners in Asia, but also officially introduced Symphony Market Solutions, our new suite of standardized, licensable workflow and automation tools. Additionally, our customers showed off a range of new use cases, workflows and innovations they've developed on top of the Symphony platform.
In the five years since Symphony first launched, we've achieved so much, and I'm proud of all we demonstrated as a community at yet another successful Innovate. Missed the conference? We hope to see you next time! But in the meantime, here's a brief recap of some of the day's highlights:
Opening Keynote & Workflow Demo
David Gurlé, Symphony's CEO and founder, opened the event by breaking the news of our latest fundraise of $165 million USD, led by a group of global investors, including Japan's MUFG and Standard Chartered. We are excited that Symphony has earned its place in the digital workplace of tomorrow, and it is both humbling and motivating to continue to receive such strong support from the biggest financial services and technology companies in the world.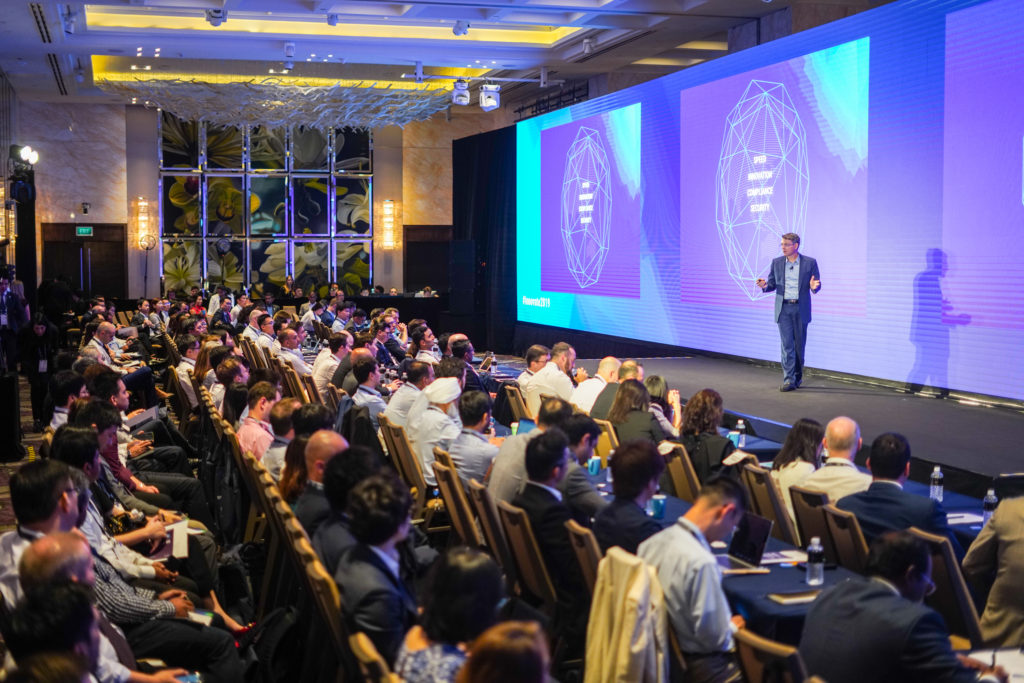 "Digital transformation is a global initiative. The biggest challenge is, it is an interconnected world." – David Gurlé, CEO & Founder, Symphony
David then welcomed Ken Yagen, our Chief Product Officer, who walked us through a typical Symphony workflow, highlighting some of our newest feature upgrades, like mobile deep linking and Symphony for Developer Workflows, allowing for real time connectivity with Atlassian Jira, Confluence, and Gitlab.
"Symphony helps me accelerate decision making at times when every second counts." – Ken Yagen, Chief Product Officer, Symphony
Introducing Industry-Wide Automations with Symphony Market Solutions
Next, our EVP of Client Solutions, Goutam Nadella, and Head of Market Services, Sid Nadella, introduced and demonstrated Symphony Market Solutions, our new suite of standardized, licensable workflow and automation solutions.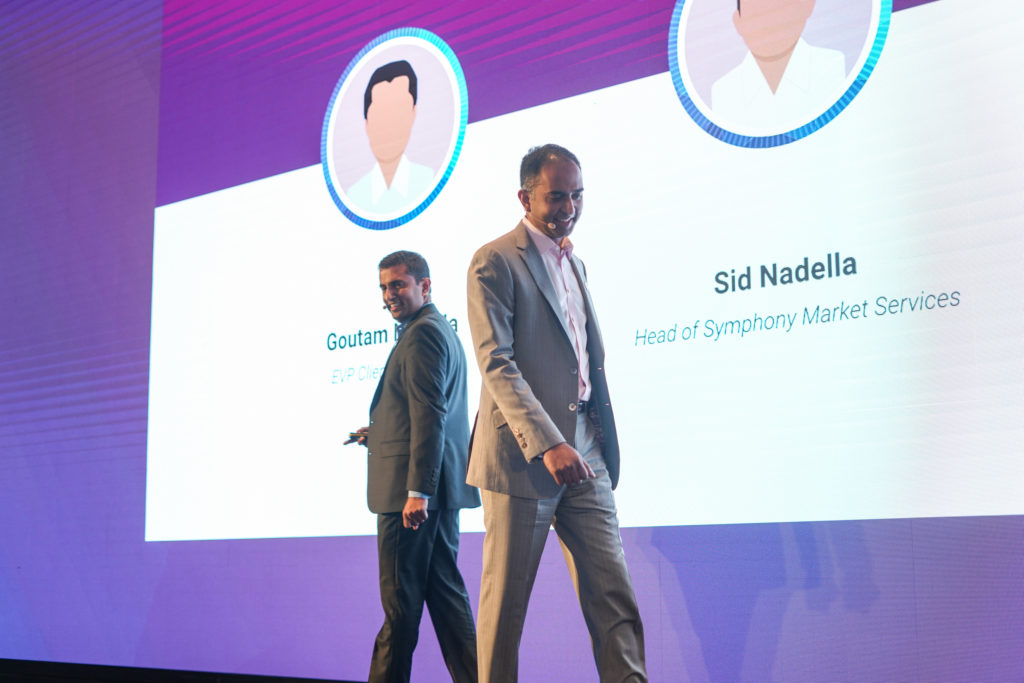 "Automation is real. Everyone is looking to simplify workflows. Automation cannot happen without humans. The best automation brings together bots and humans, efficiently." Goutam Nadella, EVP of Client Solutions, Symphony
Many Symphony customers and partners also showed off their own workflows, bots and automations built on top of the Symphony platform including BFAM, DCA, Deutsche Bank, DTCC, Goldman Sachs, J.P. Morgan, HKEX, HSBC, Standard Chartered and more.
In Conversation with Singapore's Top Minds
We were honored to host some of Singapore's top leaders in financial services including Tinku Gupta, SGX's Head of Technology; Sopnendu Mohanty, Chief FinTech Officer of the Monetary Authority of Singapore; and Sonjoy Phukan, COO at Bank of Singapore.
Throughout each conversation, one dominant theme stood out: the urgent need for faster innovation and digital transformation in the financial services industry, particularly in regards to improving client service.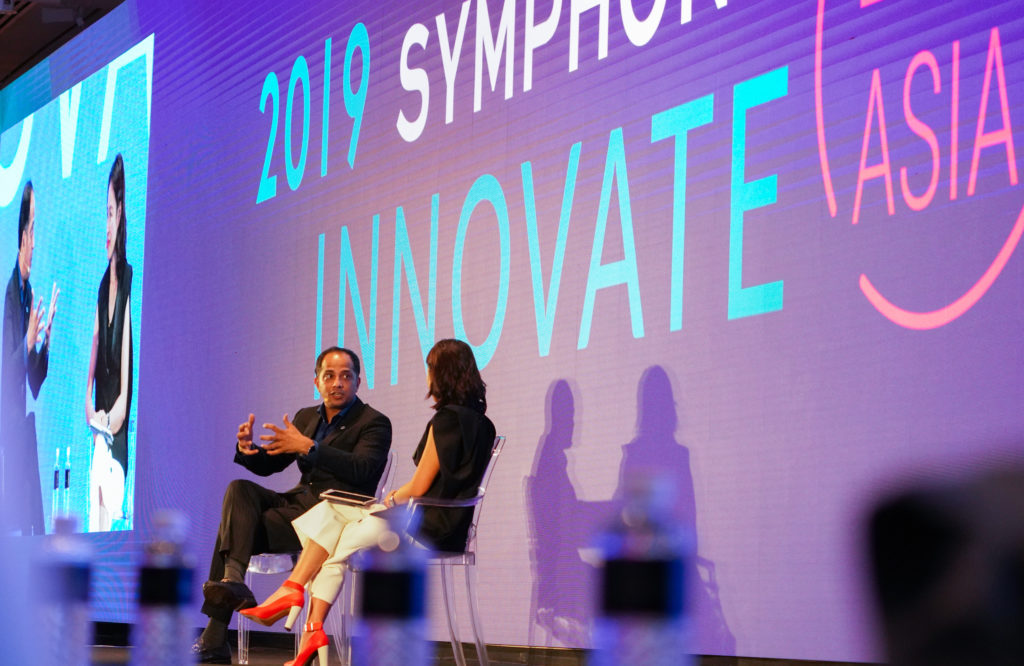 "Fintech trends are getting more and more real. It is finding the balance – how do you integrate fintech into business incrementally and in an agile fashion without impacting your customers?" – Tinku Gupta, Head of Technology, SGX
"The best innovations will come from countries with the most restraints. It is our job is to collaborate with them, that is the way to move forward." – Sopnendu Mohanty, Chief FinTech Officer, Monetary Authority of Singapore
"People want simple, personal, contextualized information. Banks need to understand this demand and develop products accordingly." – Sonjoy Phukan, COO, Bank of Singapore
Uniting a Passionate, Innovative Community
Symphony Innovate is an event that brings together one of the most passionate, innovative communities, to share new ideas and create connections both digitally and personally. During his keynote, David talked about how, together, we are moving from Wall Street 1.0 to Wall Street 2.0. This made me think of how impactful the Symphony community is in fundamentally changing how things work across financial services. Collaborating together, at events like Innovate and beyond, is so important as we continue to move towards Wall Street 2.0.
I can't wait to see what our customers, partners, staff and supporters will bring to the table for our fourth annual Symphony Innovate New York, coming this October.
Want to see more from Symphony Innovate Asia 2019? Check out our replay page filled with videos from the day, and look out for upcoming blogs featuring some of our best panels and presentations.
Google Cloud to become Symphony's primary cloud provider Sunnyvale, Calif., New York, and London, July 20, 2021 – Symphony, the leading markets' infrastructure and technology