The largest global community in Financial Services
Over half a million users
More than 1,000 institutions
largest global by revenue
Find efficiency and innovation
Utilize Symphony to connect and liquefy financial transaction workflows
A trusted directory of over half a million verified user identities across financial markets
Meet clients on their channel of choice, including WhatsApp, WeChat & SMS, securely via Symphony.
Solving precise workflow pain points across primary and secondary markets
Find efficiency and innovation
Utilize Symphony to enable new financial networks across multiple secure channels
Financial Services IDentity as-a-Service (FsIDaaS) unlocks and extends the power of our trusted Directory to standardize and streamline identity-critical workflows
A flexible omnichannel approach enabling you to service clients on their channel of choice, including WhatsApp, WeChat & SMS, on your platforms and portals or on Symphony
Seamlessly and securely move from chat to video or screen share, plus record meetings to comply with key regulations
Save time, reduce email and drive efficiency
Communicate and collaborate securely
Secure bilateral and multilateral real-time chat, file-sharing with built-in security and compliance
Symphony offers encrypted chat-based collaboration to institutions and firms of all sizes, with bots and automation to improve everyday workflows.
Symphony's strong focus on compliance and encryption dramatically lowers risk and frees up resources your company can use to invest and grow.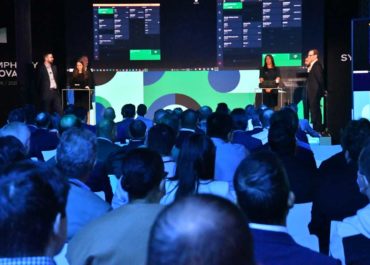 News
Earlier this week, I am happy to say we hosted our first in-person Symphony Innovate in over two years. Things, of course, worked a bit differently this year for the attendees gathered in person, but coming together with members of the Symphony community was something we all dearly missed! Hundreds of digital attendees also tuned in around the globe to see live demos of new products and integrations, and to hear discussions between financial services and technology leaders from around the globe.
Join the market on Symphony