Navigating the Last Mile of Automation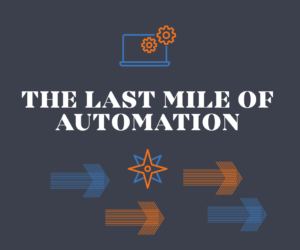 When you order a product online, you probably don't think about the journey it took to arrive on your doorstep two days later. But for the businesses charged with getting those packages to customers, it's the final step in that journey—also known as the "last mile"—that poses the biggest challenge and is in many ways the most important in measuring customer satisfaction. According to a report published by Business Insider, last-mile delivery accounts for 53% of overall shipping costs, and in an international survey of grocery and consumer products executives conducted by the Capgemini Research Institute, 97% of organizations indicated that "current last-mile delivery models are not sustainable for full-scale implementation across all locations."
We are seeing a similar "last mile" in global markets as the Symphony platform facilitates a ground-shift in the way business is done across the global financial industry. Organizations can layer our software platform on top of their existing technology infrastructure and gain access to innovative tools for collaboration, automation, and more. At Symphony, we built a platform that—on top of facilitating communication—allows our customers to create customized workflows to solve for specific business challenges. Initially, we saw the greatest traction as our customers leveraged automation to increase efficiency and reduce human error in internal workflows, such as connecting proprietary platforms and data into existing workflows, front-to-back automation of workflows across trade lifecycles, automating repetitive, task-based workflows, or streamlining HR processes.
Over the past year, we have seen a surge in collaboration across organizations to extend this automation to their external counterparts. For instance, at Innovate New York 2019, we saw many examples of the community using customer-built Symphony bots to significantly streamline the process of obtaining quotes for illiquid and highly structured financial products between the buy- and sell-side. However, these cross-company workflows are often bespoke and based on the needs of two specific organizations, which forces organizations to adopt each one's individualized solutions. This is unsustainable in case of workflows that involve multiple counterparties. For instance, if you are a hedge fund that regularly trades with 50+ organizations, and equally if you are a dealer that trades with many counterparts, automation not done right can actually make a bad problem worse.
Further, the IT infrastructure at financial institutions is custom-built and frankly, outdated. Overhauling those legacy systems to support new technology or integrations can be a costly and time-consuming process. Ultimately, if the end-user's system isn't compatible with the technology you're trying to deliver to them, that's a failure.
This is the challenge of "last mile" of automation for global markets: when organizations want to extend the tools and solutions they've built together to their various clients and partners. But this is also where the industry will see the greatest ROI.
With a community of nearly half a million professionals already on the Symphony network, secure end-to-end encrypted infrastructure, and an extensible platform with bot SDKs/APIs, Symphony is in a uniquely ideal position to help financial institutions navigate this last mile. We've identified a number of industry-wide challenges ripe for automation, and we are already building solutions—such as automation of pre-trade price discovery via the SPARC RFQ App and supported APIs, and post-trade reconciliation via BOTs—that we hope will become the standard across global markets. Our goal is to make Symphony the place where any financial institution and client will be able to connect with their relevant counterparties to build or use standardized workflows and automations that allow them to work better, smarter, and faster.
Simply put, when your partners, clients, and counterparties all belong to the same community, share the same context, and use the same tools, suddenly the last mile becomes a much shorter distance.