Symphony Elements in Action at the Symphony Innovate 2019 Hackathons
This year, we hosted 115 developers across three locations for the Symphony Innovate 2019 Hackathons. Talented teams from the Symphony community came together in London, Paris, and New York to develop scalable solutions that bring progress and efficiency to their firms.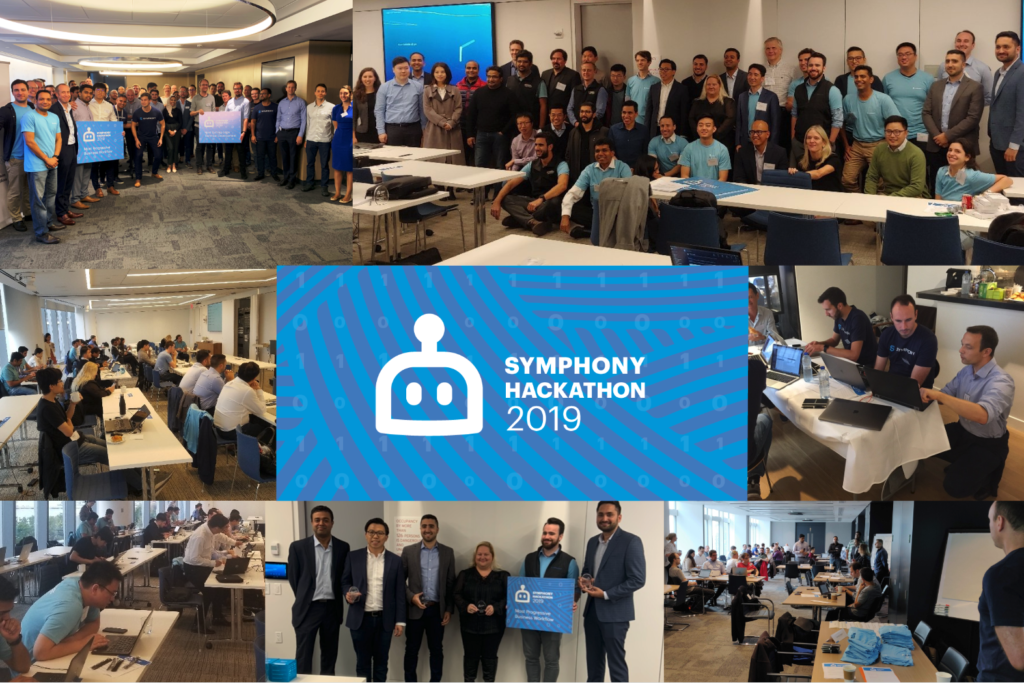 Developers focused on connecting Symphony's growing community by building cross-company workflows for a chance to win the title of either Most Cutting-Edge Technical Development or Most Progressive Business Workflow. Hackathon participants got an early look at Symphony Elements, a set of standard off-the-shelf components to build workflows with consistency and speed. 
The innovations presented provided solutions for trading, sales, research, compliance, technology and operations functions. Read on to see the winners from each region and learn what they were able to develop on Symphony in just one day: 
London Hackathon hosted by Credit Suisse
Most Cutting-Edge Technical Development Award:
Team Reason, Between the Lines
Between the Lines leverages Natural Language Processing (NLP) and sentiment analysis to assist with team management and to track employee attitudes. This provides accurate feedback in real time and can help teams like Human Resources work more effectively. The development includes a chat bot, conversations, and surveys, and was built with Symphony Elements.
Most Progressive Business Workflow:
Credit Suisse 2, KC: The KYCD Status Update Bot
The KYCD Status Update Bot reduces the lead time and bottlenecks involved in retrieving the current status of client KYCD. A user can request client KYCD status from a chat bot, receive the status, open tasks, and view a list of owners. The bot then automatically launches a chat room with the task owners to improve transparency, alleviate manual processes, and reduce the risk of client suspension.
Paris Hackathon Hosted by Galerie 24
Most Cutting-Edge Technical Development Award:
Société Générale, SG Bot, Structured Product for Clients
The Structured Product for Clients bot enables clients to price and communicate about Structured Products electronically while getting live support from the Sales and Service Group. The client sends a message to a Société Générale chat room, where a bot listens for their request. A summary of their request is sent back to the associated Société Générale Account Manager. This development leveraged Symphony Elements and Symphony.Net SDK.
Most Progressive Business Workflow:
Finastra, Client Confirmation Process
Confirming trade status with clients is a manual, inefficient process and the lack of standard templates in email make automatic matching, dispute & auditing difficult.. Finastra's Client Confirmation Process provides structured confirmation data for automation and removes the need for email. Trade data can be viewed and automatically acknowledged or disputed directly on Symphony.
New York Hackathon Hosted by Citi
Most Cutting-Edge Technical Development Award:
BNP Paribas, Sales Workflow Bot – Maestro
The BNP Paribas team built Maestro, an integration that leverages public APIs to connect multiple platforms to Symphony, affecting every part of the workday. Teams can automate everything from scheduling meetings to checking their commute. The judges were impressed by the breadth of external technologies which were integrated and clever innovations like checking transit time before scheduling a meeting.
Most Progressive Business Workflow:
BNY Mellon and Blackrock, Legal Entity Identifier (LEI)  eXchange Protocol (LEIxP)
BNY Mellon and Blackrock's solution is called the Legal Entity Identifier (LEI) eXchange Protocol (LEIxP), a collaborative technology utility that looks to automate the digital identifier process.  This solution creates an industry capability to communicate, validate, consume and renew digital client identifiers through a single, standardized communication method. The LEIxP conceptualized an industry utility which leveraged the capabilities of Symphony to produce a multi-lateral cross-company workflow. Leveraging Symphony to crowdsource and automate digital identity credentials, validation and change notifications, the solution could easily save thousands of hours across the industry and revolutionize the way in which this information is shared.
Exclusive New York Host Awards
Challenging the Status Quo
Société Générale,  Société Générale, "Multi Bots Workflow"
The Société Générale Bot reduces human intervention using an event based, multi-bot workflow that replaces human interaction with bot-to-bot interactions. The team built a workflow that replaced an eight-step, error-prone, manual process involving operations, middle, and front office teams with several bots interacting with each other in the same chat room. This solution could be easily extended to other workflows.
Interactive Intelligent Workflow
Citi, RFQ Bot
The Citi RFQ Bot automates and facilitates corporate bond Requests for Quotes (RFQs), streamlining manual order entry between clients, sales, and traders. The Citi team leveraged both Elements and an Extension application for different parts of their RFQ workflow to build an elegant solution. 
Productivity Innovation
Barclays, Outlook Integration Bot
The Outlook Integration Bot transfers email chains to Symphony chat rooms with the proper data and parties. By pulling everything into one persistent chat room, members can engage in collaborative discussion and decisions can be made in real time. This solution used NLP to dissect and summarize long email chains by pulling keywords from the email chain.