Introducing the StreetLinx Alert Bot: Never Miss a Client or Dealer Org Change

StreetLinx Inc., the financial services counterparty mapping platform, has developed and rolled out on Symphony the StreetLinx Alert Bot, which alerts users of organizational changes at the firms they interact with. 
As keeping track of changes across counterparties is an important industry challenge, the bot was built to support two primary use cases: 
alerting sell-side

sales and relationship management personnel to changes at clients they cover and 

alerting buy-side

traders, portfolio managers and relationship management personnel to coverage and organizational changes across their dealer counterparties. 
Utilizing Symphony's flexible infrastructure, messages generated by the bot provides users with both one-click access to the StreetLinx platform as well as the ability to connect with users for cross-firm communication on Symphony.  
StreetLinx CEO Gary Godshaw said: "For many of our customers, Symphony is the common denominator.  With a community of more than 500,000 users, they are by far the broadest financial services network and community. The StreetLinx Alert Bot is a lightweight integration on Symphony that allows us to deliver a streamlined user experience to our clients."
Sell-side Symphony users with entitlements on StreetLinx can open a channel with the bot and subscribe to specific alert types such as interest list updates, new strategy launches and personnel changes updated by their clients. On the other hand, buy-side users can subscribe to alerts such as changes in sales coverage across their dealer counterparts
"The StreetLinx Alert Bot is the first deployment in a series of connectivity and entitlement-centric workflow solutions our teams have collaborated on jointly with buy and sell-side customers. We are excited to see this go live and look forward to more collaboration in the future!", concluded Symphony's Global Head of Solutions, Krishna Nadella.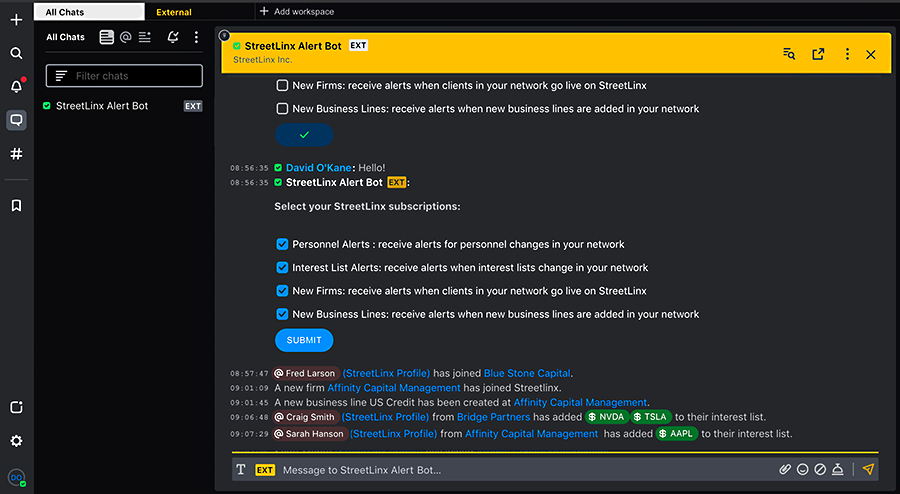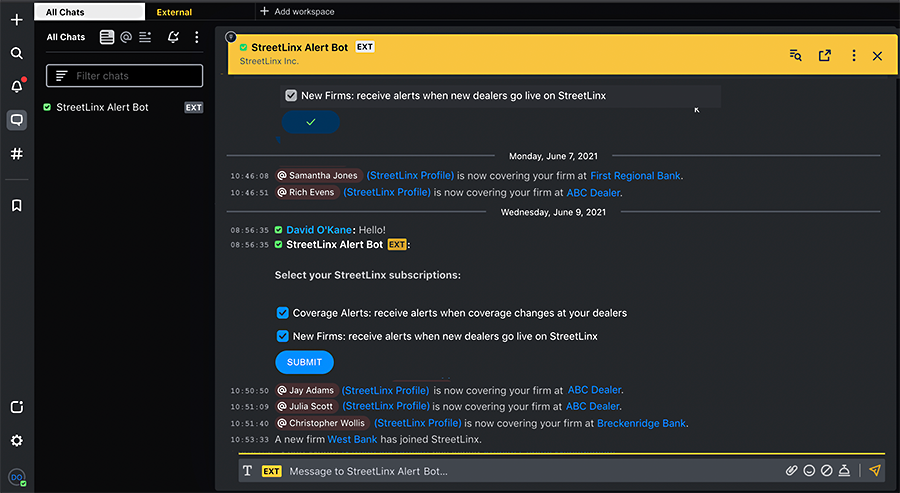 About StreetLinx 
StreetLinx serves as a marketplace for the exchange of organizational data between trusted institutions. The firm standardizes internal directories and provides entitlement controls for bilateral sharing between counterparties. More than 130+ buy-side firms and over 50 dealers have joined the platform since its launch in 2019.
Please click here, if the form above isn't displayed properly
Google Cloud to become Symphony's primary cloud provider Sunnyvale, Calif., New York, and London, July 20, 2021 – Symphony, the leading markets' infrastructure and technology