Essential Collaboration or Capital Markets: Which Symphony 2.0 Mode is Right for You?
When we talk about Symphony 2.0, we emphasize that the product is purpose-built for financial services workflows. But even that is too simplistic – we recognize that within the industry, there is a wide variety of roles, responsibilities, needs and preferences. Investment bankers, research analysts, compliance professionals: all within financial services, but all with very different workflows.
To manage these differences, Symphony includes a number of ways to toggle features and customize your individual user experience. But while many of you tend to rely on certain features according to your job function, we also know that 60% of you also stick with standard, "out-of-the-box" configurations of Symphony.
As a result, we introduced modes with default settings for specialized needs: Essential Collaboration and Capital Markets modes in response to these specialized needs. This way, users can benefit from the settings we know they are looking for without having to lift a finger while still maintaining the ability to customize.
Read on to learn more about each mode, and determine which is right for you.
Essential Collaboration mode
Built for: those in development, IT, and day-to-day operations at financial services firms
Key features: clean, simple interface; choice between light or dark visual theme; tabs for multitasking; workspaces; single, fixed chat list
Essential Collaboration mode is designed for teams using Symphony primarily for internal collaboration and workflows. The interface is clean and simple, and compiles all chats into one single chat list to monitor and multitask.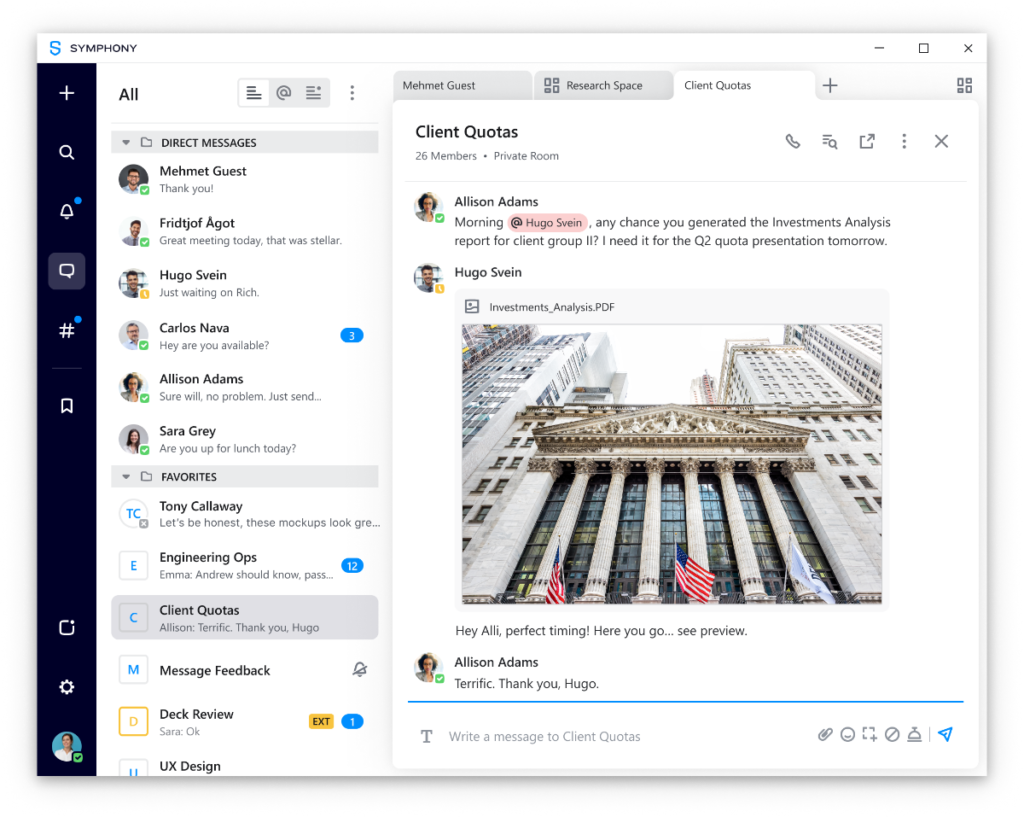 Essential Collaboration mode offers a number of customization options, from choosing between a light or dark theme, to configuring notification types and sounds to suit their specific preferences. Those who select Essential Collaboration mode can pin multiple chats to a grid on its own tab, as well as create workspaces to save chats, apps, and other modules in custom layouts to support their individual workflows.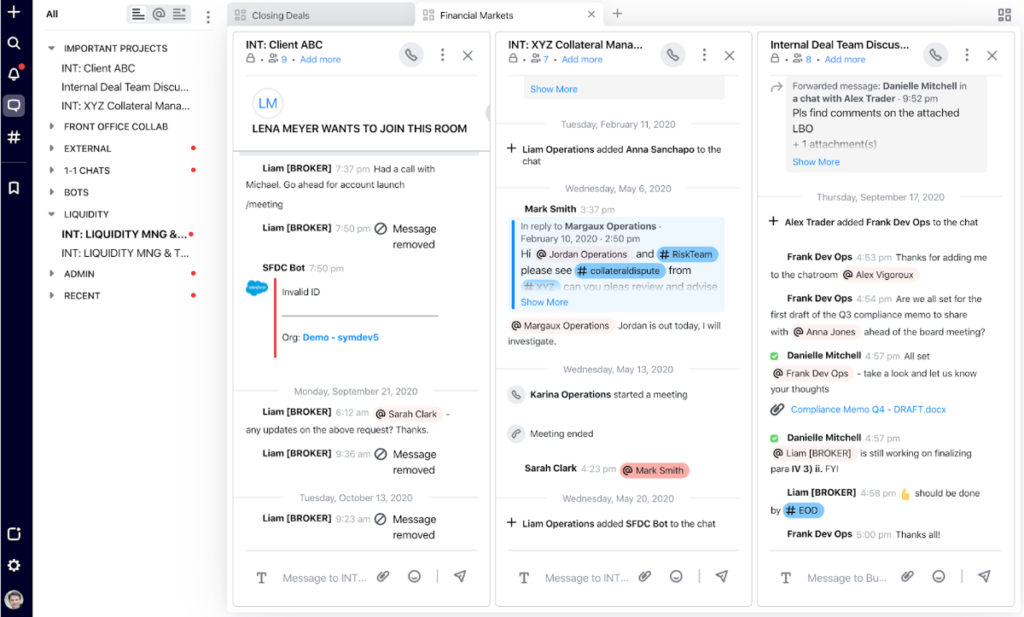 Capital Markets mode
Built for: those who work in capital markets and/or collaborate with clients or other external contacts on Symphony
Key features: dark, condensed visual theme and notification sounds are on by default; built-in workspace exclusively for external chats; separate chat lists for individual workspaces; activity feed open to monitor all incoming chats
We've consistently heard from those in capital markets how critical it is to prioritize communication with your external clients, and also that you need the capability to monitor and respond quickly to multiple time-sensitive chats. As a result, we tailored Capital Markets mode to prioritize external chats, screen real estate, and urgent notifications.
Capital Markets mode defaults to a dark, condensed visual theme familiar to many in capital markets. It also automatically opens an activity feed of all incoming chats, allowing you to monitor updates in real time. A built-in, external-only workspace allows you to focus exclusively on chats from clients or other external contacts.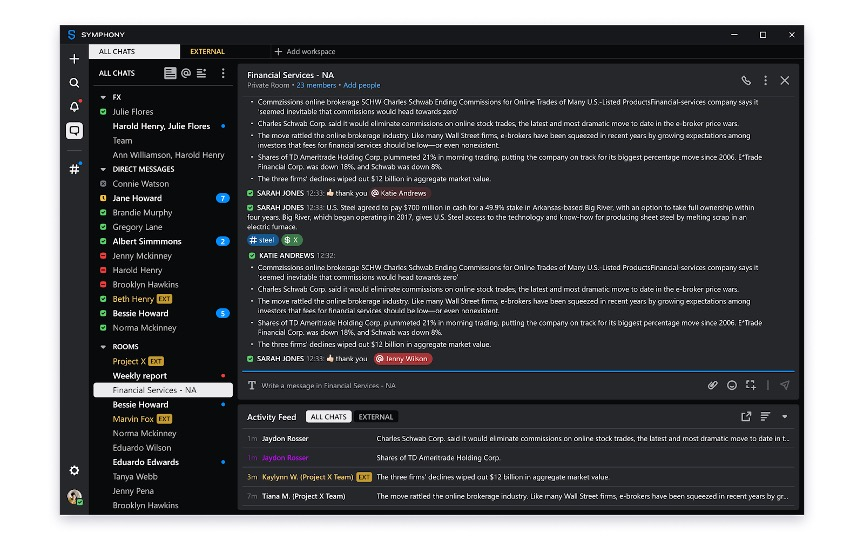 In addition, we configured notifications in Capital Markets mode to reflect the urgency of many of your workflows — in other words, Capital Markets mode is designed for those of you who want to be interrupted when an important or time-sensitive message comes in. Urgent chat alerts were purpose-built for this mode: chat requests pop up on the screen in real time and prompt you to immediately accept, decline, or snooze the request. This feature can be customized or turned off, and is available in Essential Collaboration mode as well.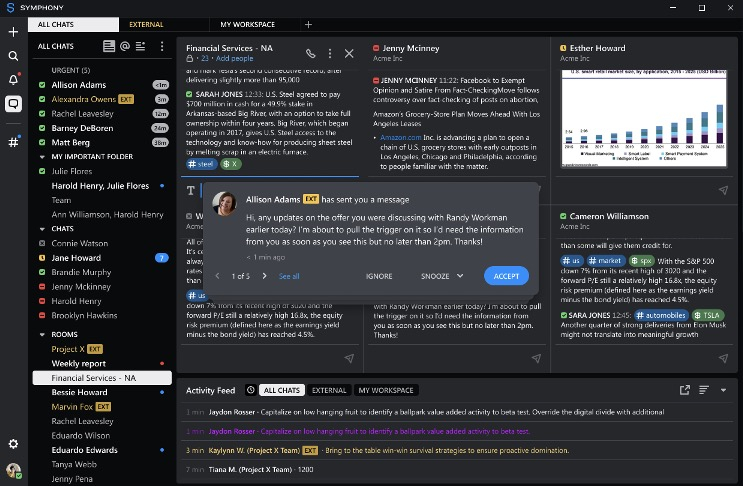 Finally, in Capital Markets mode, instead of opening new tabs, you automatically open a new workspace. These can be closed and relaunched at any time, and each comes with its own individual chat list featuring only the chats you add to that workspace so you can focus on one at a time. This feature helps you track dozens of highly-active deal workflows and client chats in real time. Within a designated workspace, only the specific chats you have added appear in the chat list rather than duplicating all chats across each workspace, allowing you to separate the signal from the noise happening elsewhere in the platform.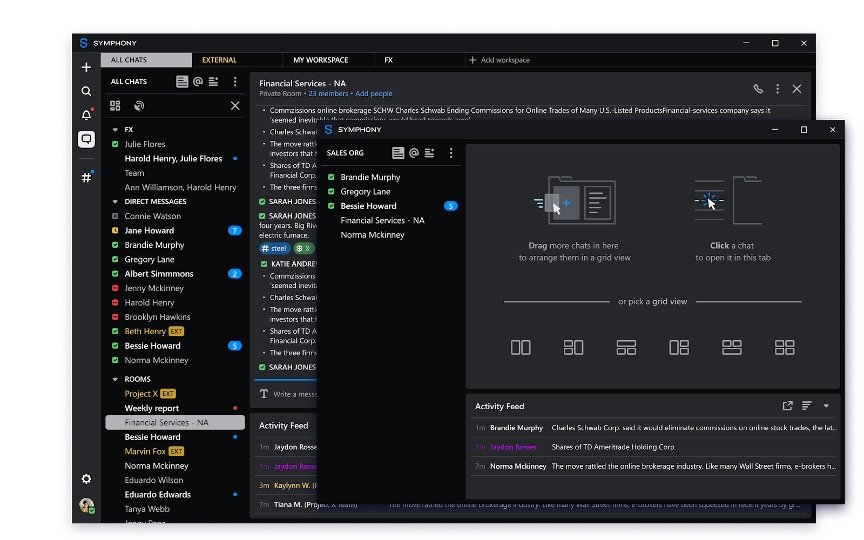 The variety of functions and workflows within the financial markets space, coupled with the myriad preferences of each individual, inspired us to make Symphony 2.0 highly customizable. We encourage you to think of Essential Collaboration mode and Capital Markets mode as the foundations upon which to structure the Symphony experience that best serves your specific needs. To explore Essential Collaboration and Capital Markets modes, click the Settings icon in the top right hand corner of your platform, select Try Symphony 2.0, and select your mode in Settings.
Please click here, if the form above isn't displayed properly
Google Cloud to become Symphony's primary cloud provider Sunnyvale, Calif., New York, and London, July 20, 2021 – Symphony, the leading markets' infrastructure and technology