Four Reasons to Switch to Symphony 2.0
After more than two years in design and development, Symphony 2.0 is ready for our customers to try. The rollout begins with an open beta for select customers beginning July 20, followed by a general availability release later this summer. Customers can look forward to a completely revamped look and feel with exciting new features. Here are just a few of the reasons to switch to Symphony 2.0: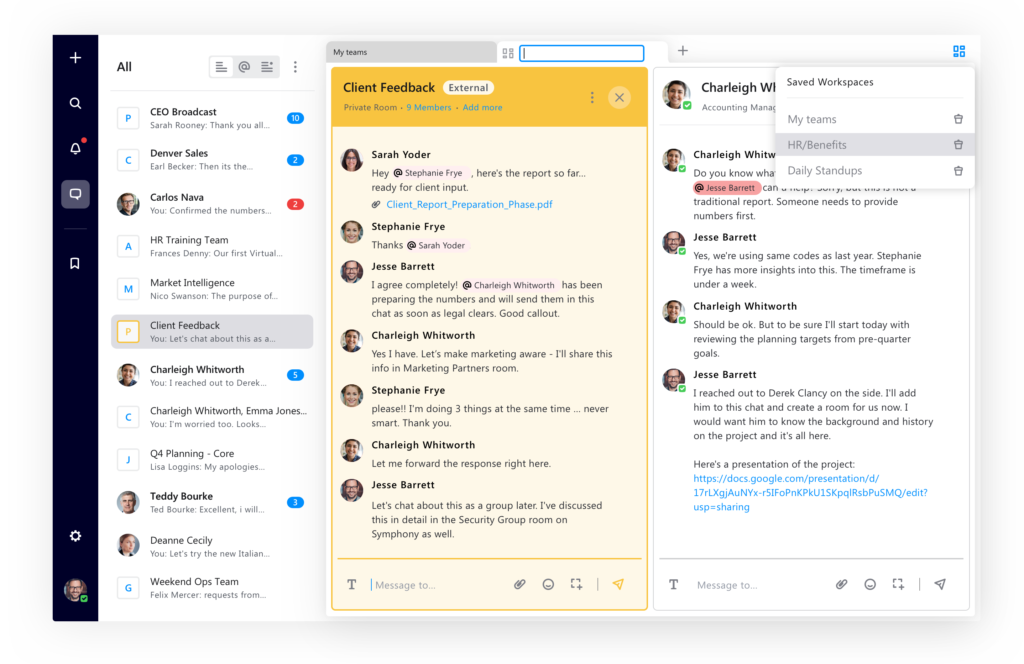 1. Performance
Symphony 2.0 is faster. Performance is paramount for financial professionals where just seconds can make all the difference. The new interface was designed to deliver information quickly and intuitively. We've optimized every user interaction, as well as built and tested each feature to provide a cleaner, simpler, more flexible experience.
We have worked to keep the code tight and the footprint as small as possible. Throughout the process, we have kept track of memory and CPU impact and monitored all the core interactions for speed and reliability. Our everyday users are going to enjoy the difference.
2. Smart notifications

Symphony 2.0's new notifications are getting great reviews from our early beta users. As more conversations shift from email to chat it can be difficult to differentiate between read and unread messages, stay on top of mentions, and prioritize conversations that require swift action. The new system uses simple cues like color coding and filters to prominently display your most important notifications.

Personally, I like a very flat workspace with no folders. I use the new unread filter and read all of my mentions first. The message preview in the chat list lets me quickly scan messages without having to switch conversations. With this system, I can be confident that I am up to date and have not missed any important conversations.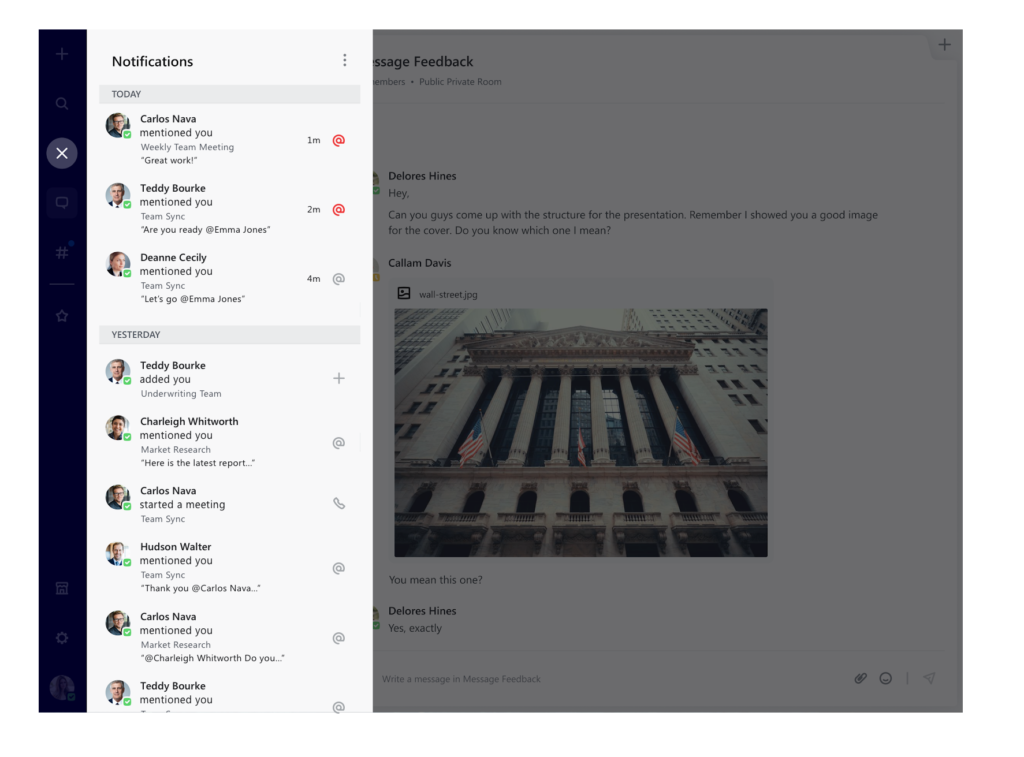 3. Simplified flow
At Symphony, we are not only building the customer experience, we also depend on Symphony for all of our internal collaboration. We've streamlined Symphony 2.0 by reducing the number of clicks required to get things done.
For example, now we can take a chat with one teammate and make a group chat including several participants – keeping context and continuity with the chat history. Conversations are more flexible with Symphony 2.0 – by adding a name to any ad hoc group, it becomes a chat room. We are adding keyboard shortcuts and navigation all over the app. Finally, we have created single click message actions for forward, reply, save, and inline emoji reactions (heart, thumbsup, smile, etc.)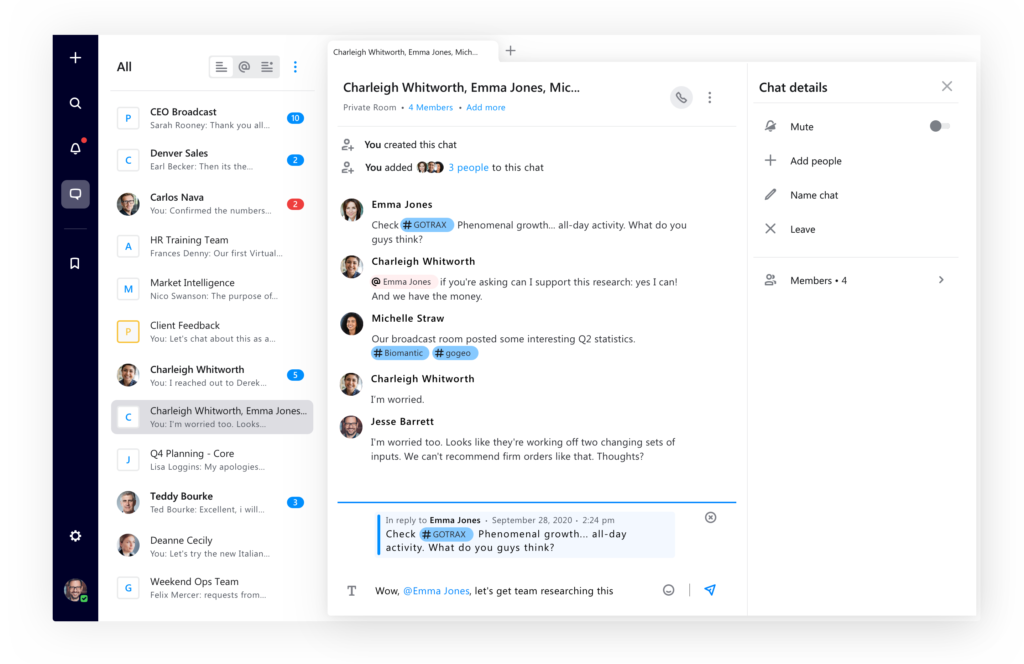 4. Front office focus


The new Symphony is as good as it gets (much better in fact) for everyday users, developers, operations etc… But we also heard a lot of feedback from the front office – especially those users familiar with Instant Bloomberg. We worked with them to understand key workflows and features.

Based on this interaction, we're building a UI treatment with dark mode, a condensed view, popped-out workspaces, custom chat lists, and notifications. Unlike generic IT platforms that serve "any and all", we will continue to specialize for the industry and community we serve.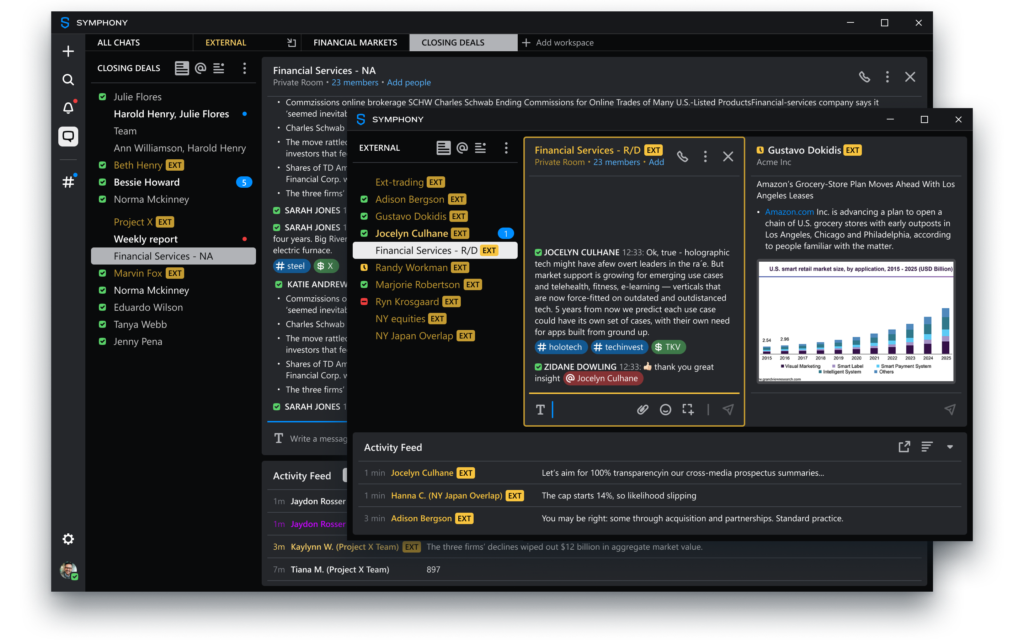 To try the new Symphony, look for a notification in the app any time after July 20. We can't wait to hear your feedback.