Going Digital in the Collaboration Economy: Symphony Innovate Europe 2020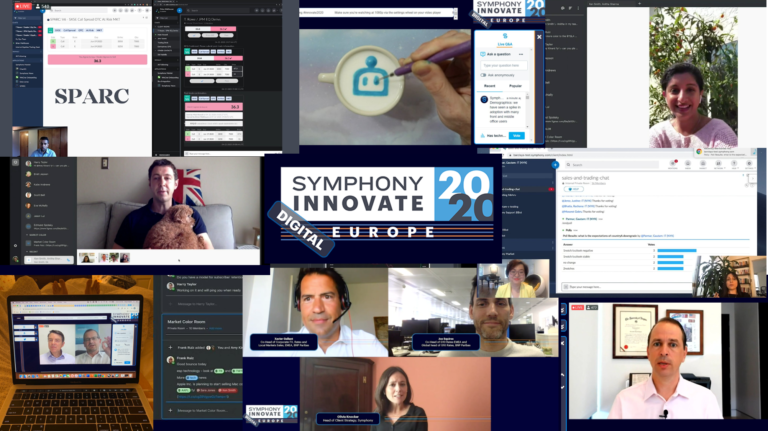 This Tuesday, we achieved a new milestone for Symphony by hosting our first digital event. More than 700 people tuned in from over 40 countries around the world, from home offices featuring snowy backyards or sunshine and sand, to hear how key players in the financial services industry are dealing with the effects of COVID-19 and to watch demos of their solutions.
Throughout the livecast, we heard from industry leaders about the role of digital transformation, saw real automations, and learned about some exciting new innovations. Seventeen speakers from 10 different customer and partner organizations joined us on our first-ever digital stage. It was clear from the conversations we heard that the effects of COVID-19 are impacting us all–from our work to our personal lives–in ways that we could not have imagined, many of which have accelerated innovation.
Our team experienced these effects when we made the shift from planning and executing an in-person event in London to a fully digital event. This process reminded us how quickly things can change and highlighted how important adaptation, creativity, and collaboration are in any team. In the end, it was just as incredible as our previous six Innovate events, and I am thrilled to share my favorite parts with you:
Accelerating the arrival of the Collaboration Economy
David Gurlé, Symphony's Founder & CEO, kicked off the event highlighting the economic uncertainties and new social environment we are all living with today. He explained that, for financial services especially, digital transformation has accelerated from being a trend to becoming a necessity in the blink of an eye. This acceleration has propelled us into the Collaboration Economy–and our customers are diving in head-first, as evidenced by the following usage spikes on the Symphony platform since January 2020:
Messages sent: up 2.1x
Meetings hosted: up 4.3x
Mobile users: up 1.7x
David also highlighted how Symphony is working to support our customers in this new economy. During the event, we announced Symphony CONNECT Solutions, launched our Developer Certification Program, and updated our community on the forthcoming arrival of Secure Meetings. From there, the stage was set to hear and see exactly how the Symphony community has been adapting to "the new normal."
The Symphony community in action: Real applications, bots, and integrations
At each Symphony Innovate event, the automations our customers are building on top of the platform never fail to amaze me. From Amundi's Alto integration to Barclays' BBot, Polly, and Signaly, we saw real bots and integrations that are saving time, connecting teams, and accelerating workflows. Hearing speakers from Amundi, Barclays, BNP Paribas, JP Morgan Chase, and T. Rowe Price share how Symphony is working for their firms was powerful and inspiring.
"Because of COVID-19 we've seen an increase in requests for people wanting to get a Symphony license to continue their connection." – Ying Cao, Head of Digital Product & Workflow, Barclays
"For one discrepancy on one transaction, we are sending 5-10 emails to resolve the issue. That's why we decided to start to work with Symphony, to see how we could stop sending so many emails and using Symphony as a chat bot to discuss with the custodian." – Bertrand VanDeVoorde, Head of Middle Office & Reporting, Amundi
Insights from EMEA global markets leaders
Last but not least, our Innovate audience heard illuminating commentary from Guillaume Lesage, COO of Amundi and Bill Winters, CEO of Standard Chartered. These Q&A sessions with David Gurlé gave us insights into global markets today and the transformation of the European financial industry. At every level and in every location, the ideas of acceleration and adaptation have penetrated the financial services industry–and collaboration is the key factor in facilitating that evolution. At Symphony, we are proud to play an active role in enabling collaboration throughout our community and beyond.
"We've got 3x more connections in April compared to February – 3x more. People use it more and more because it's a way to connect to the world from home. Making sure in real time that you have the information in a secure way." – Guillaume Lesage, COO, Amundi
The New Collaboration Economy
Symphony Innovate has always showcased collaboration: between individuals, teams, offices, and companies. This year, we saw collaboration showcased on a digital stage–but more than that, we saw exactly why that collaboration is so important in our "new normal." Seeing the role Symphony has played in our customers' lives during COVID-19 was eye-opening and humbling, and I couldn't be more grateful to them for taking the digital stage to share with us.
Want to see more from the digital Symphony Innovate Europe 2020? Check out our replay page filled with videos of the sessions from the day, and take a look at Twitter and LinkedIn for the even more replay action.