Innovate New York 2019: Reflections on Trust, Progress, and What's Next for Symphony
Here at Symphony, our team is still buzzing with the energy of our annual Symphony Innovate New York event. Our flagship conference gathered 600+ executives, developers, and industry experts from 215 different companies across global markets. 
Throughout the day, we heard from thought leaders on ways to drive efficiency, create new profit centers around data and analytics, and enhance the client experience using the Symphony platform. Thirty-five speakers from seventeen different customer and partner organizations demonstrated their solutions live on three different stages. Last but not least, we celebrated Symphony's fifth anniversary, and discussed the opportunities and challenges that our community and the financial industry at large will face over the next five years and beyond. 
If it sounds like a packed day, it was! I'm deeply proud of all Symphony has accomplished in our first five years, and Innovate New York was a vibrant celebration of our customers, our team, and our community. Read on to catch up or revisit some highlights from the event:
Opening Keynote: From Pressure to Progress
Symphony founder and CEO David Gurlé kicked off the day's activities with an overview of the main pressures facing the global markets: complexity, inefficiency, cost pressures, and regulation. David emphasized collaboration and trust as critical tools for rewiring the financial community to address these pressures and achieve progress. 
Our big news for the day was the announcement and live demonstration of Symphony 2.0, our second-generation platform. We also officially introduced Symphony Elements, a comprehensive set of user interface extension capabilities and pre-built components for developers to leverage while building bots and application integrations. 
"The market has been waiting for a very long time for an ecosystem like Symphony and what it enables. The best reason is witnessing all of the growth and creation from our clients and partners today." – David Gurlé, CEO & Founder, Symphony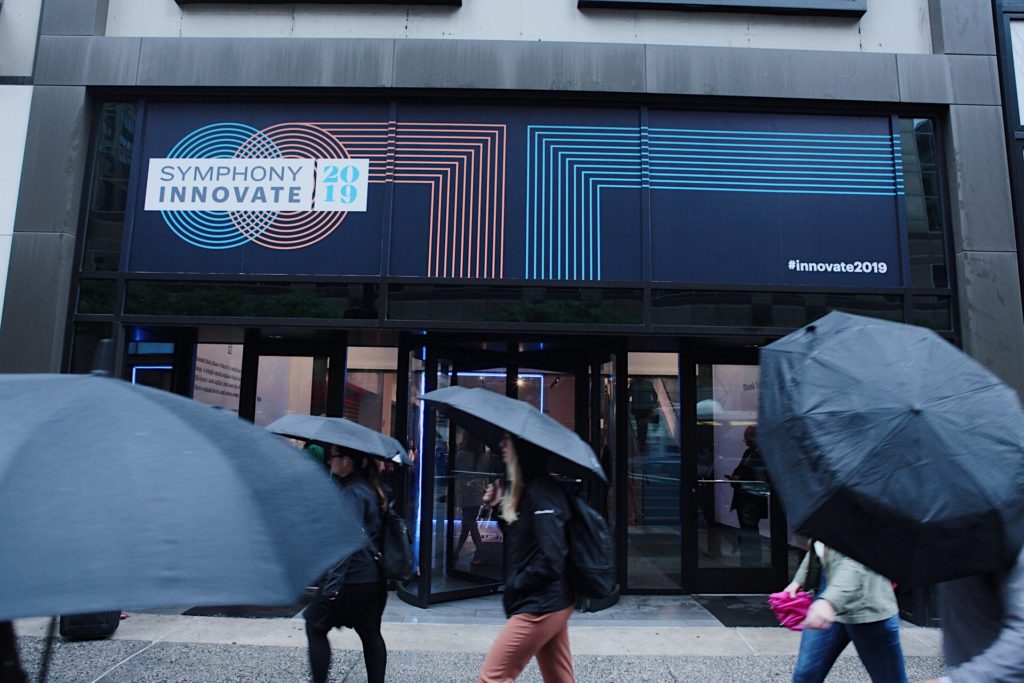 The Evolution of FinTech and Financial Collaboration
Following the keynote presentation, David invited David Hudson, co-head of Digital & Platform Services at J.P. Morgan, to the stage for a dialogue about the state of innovation in financial services today, the role of data and privacy, and the industry outlook for the next five years. They also discussed the challenges of innovating in a complex industry that long predates the digital age, as well as the imperative for legacy institutions and fintechs to work together in service of evolving client needs.
"If you weren't born digital, you have started on such a backfoot. You need to start any new project with the question: what is the data that we're going to need?" – David Hudson, co-head of Digital & Platform Services, J.P. Morgan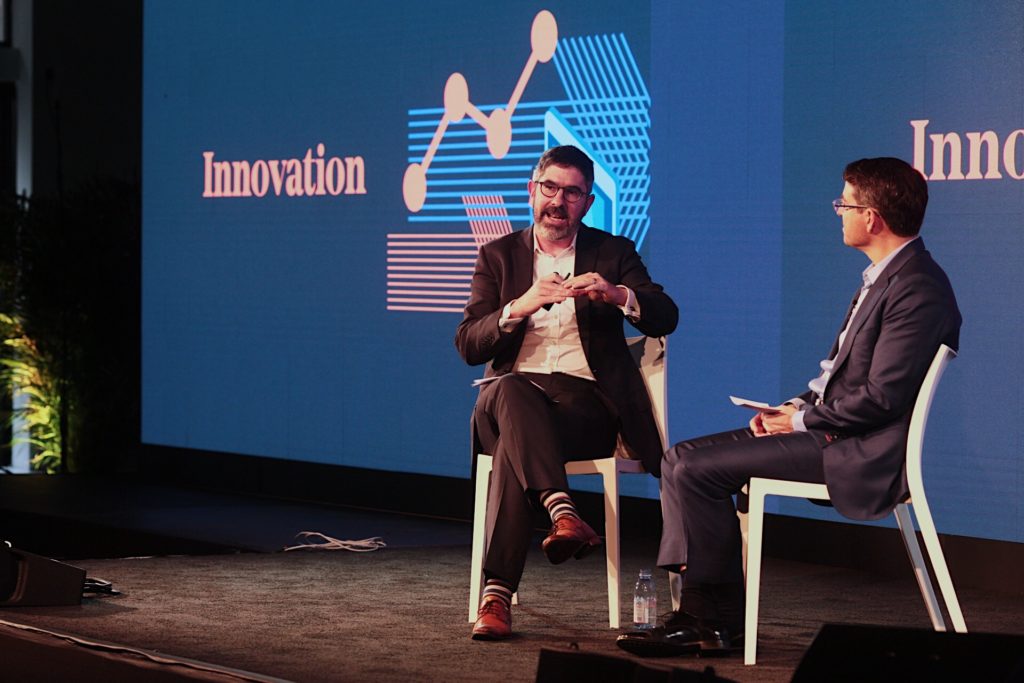 Innovation in Action: Live Demos
It was incredible to see firsthand what our customers and partners have been working on over the past weeks and months! Fifteen breakout sessions showcased live bots and integrations across three tracks: Transforming the Trading Lifecycle, Building Contextual Intelligence, and Enabling the Developer Community. 
These workflows and automations built on top of the Symphony platform by customers like UBS, Barclays, Citi and T. Rowe Price, J.P. Morgan, and more are exactly what Symphony Innovate is all about: coming together to rethink and improve the ways we work together and connect. The day closed with the Symphony Community Showcase, featuring presentations and demos from the winners of this year's Innovation Awards: BNP Paribas, Barclays and Capital Group, ServiceNow and T. Rowe Price, and BlackRock and Standard Chartered.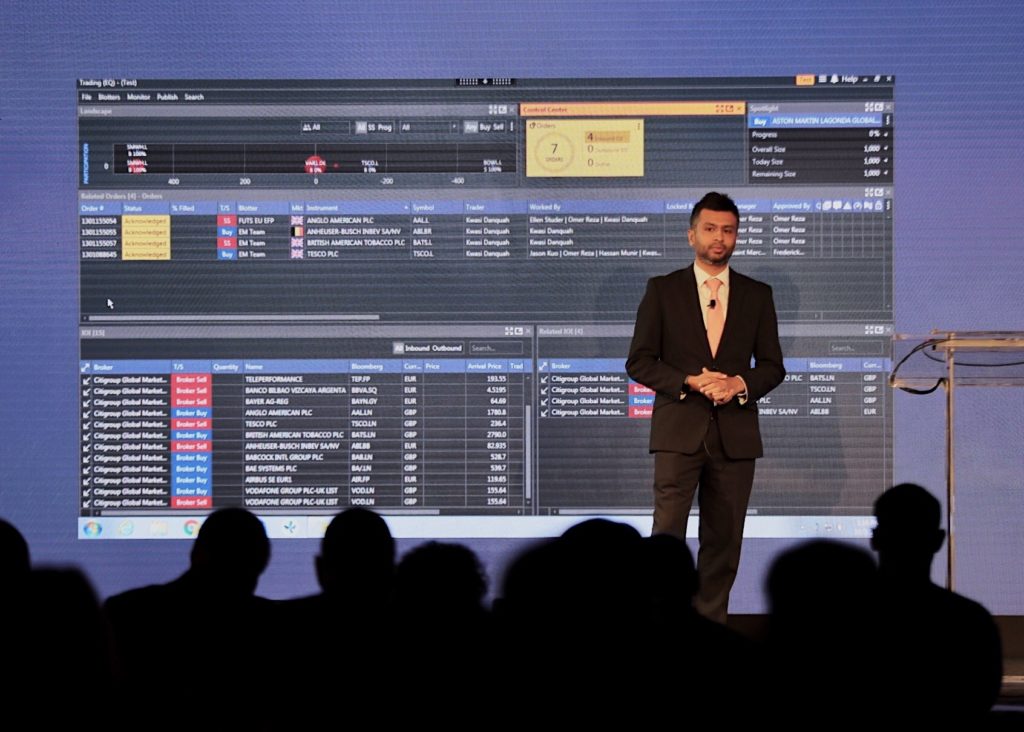 "Clients are expecting faster and faster responses to the inquiries they send us; 10 years ago you might have had 15 minutes to respond, while today they may only wait for 1 minute." – Simon Birtwistle, Executive Director, Securities, Goldman Sachs 
"SCOUT, our new digital trading assistant within Symphony is clever, has a personality, is keen, and is always right." – John Smith, Chief Information Officer, NatWest Markets
"Citi and JPM were able to build this bot in 3 months; since April, it has processed 48,000 targeted IOIs." – Kwasi Danquah, Vice President, Asset Management Technology, J.P. Morgan
Trust Propels Progress
Symphony Innovate brings together a unique community to share new ideas and build new relationships. David said in his keynote, "Together we are rewiring global markets." The innovations we saw demonstrated live onstage proves that this movement is well underway. Innovate 2019 showcased the power of technology and collaboration to transform global markets business and empower our customers like never before. 
Want to see more from Symphony Innovate 2019? Check out our
replay page
filled with videos of live demos from the day, and look out for upcoming blogs featuring our afternoon sessions.
Industry Events
New York Summer Data Summit 2024

Industry Events
Industry Events