Innovate New York 2020: Celebrating Connectivity in the Collaboration Economy
Back in April, we hosted our first-ever fully digital Innovate event while much of the world was still in lockdown. In the months since, our team here at Symphony has worked (remotely!) to enhance connectivity on our platform and support our community. Last week, we gathered virtually for our second digital Innovate, where we were inspired and impressed by the resiliency and achievements of the Symphony community. Almost 1000 attendees from all over the world tuned in to see presentations from Symphony team members, demos of new products and integrations, and discussions featuring leaders from across the financial services industry. 
Here are some highlights from the day's insightful programming–if you missed any of these sessions, or would like to revisit your favorite parts of the agenda, we invite you to view the replay content here.
Connectivity in the Collaboration Economy 
Symphony's founder and CEO David Gurlé began the day with a keynote address revisiting the concept of the collaboration economy, and emphasizing the importance of connectivity. "Without connectivity, there would be no collaboration economy," he stated, while commending Symphony customers' efforts to adapt to the pandemic, improve their productivity, and become "unstoppable." David also showed attendees the dramatic increases in activity on the Symphony platform since December of last year–demonstrating how Symphony has played an integral role in connecting the collaboration economy.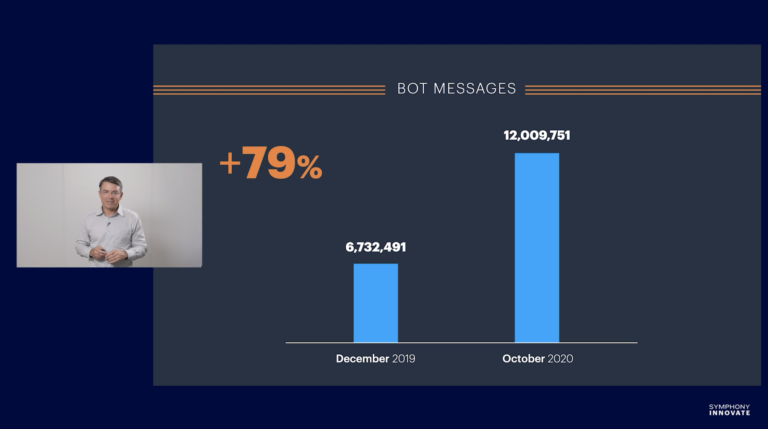 Next, David invited Dietmar Fauser on stage to discuss the importance of resiliency in times when reliable, global connection is paramount as well as what innovations we are making to provide the best experience. And speaking of experience, we also saw the latest demo of Symphony 2.0. We can't wait for the whole community to take advantage of the new features, modern look and feel, and enhanced speed of Symphony 2.0, and look forward to your feedback on the experience.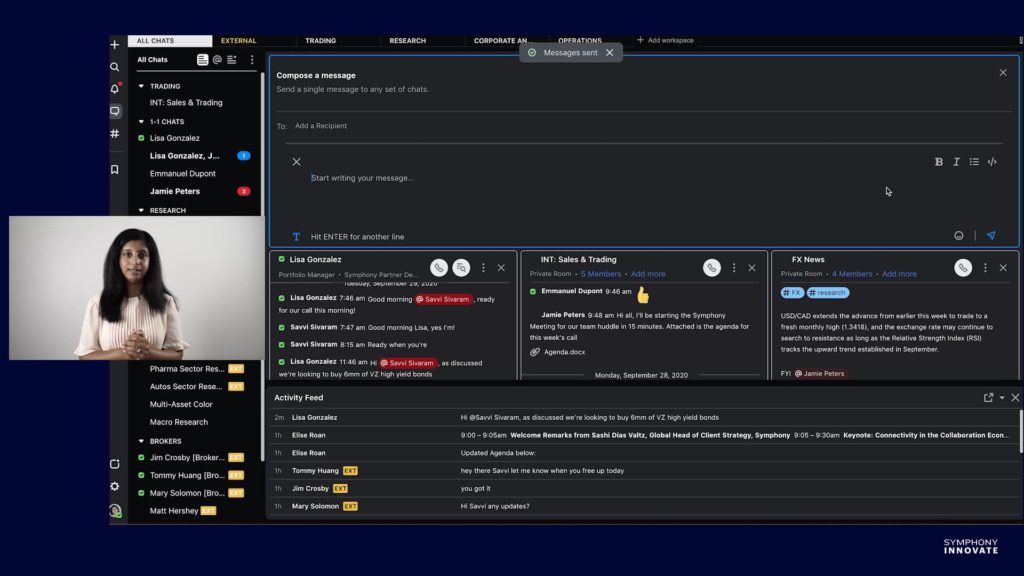 Symphony Community Workflows: Where are They Now?
Customer demos of bots and automations are always a highlight of these events, and 2020 was no exception. This year, we invited some "fan favorites" from past Innovates to update the community on their solutions. We learned that Deutsche Bank's Debbie and BNY Mellon's Selina chat bots "are still BFFs," and can now facilitate trade settlement as well as delivering time-saving trade status updates between their respective organizations.
We also heard about the number of ways that JP Morgan Asset Management's BETSI bot is helping traders stay on top of the news, facilitate the RFQ process, and more in the equities and corporate bond asset classes. These are just a few of the fascinating "where are they now?" stories shared during this session — check out the replay to hear additional updates from JP Morgan, IHS Markit, Société Générale and Accenture as well.
"Our mobile users are up massively. You know we have almost 10,000 mobile users of the platform. I think that's up about 60% since Covid-19 the restrictions… we've got 10s of thousands of chat rooms… we now have approaching 80 bots internally." – Andy Mosson, Executive Director, Strategic Client Solutions, JP Morgan
"Thanks to the deployment of the Symphony bot we observed obviously a decrease in email traffic… but also a decrease in the time to process and that's really important… you decrease the time to process the buy-ins, you decrease the risk, you decrease the potential cost of the buy-in." – Alexandre Gabriel, Innovation Leader – SG Global Securities Operations, Société Générale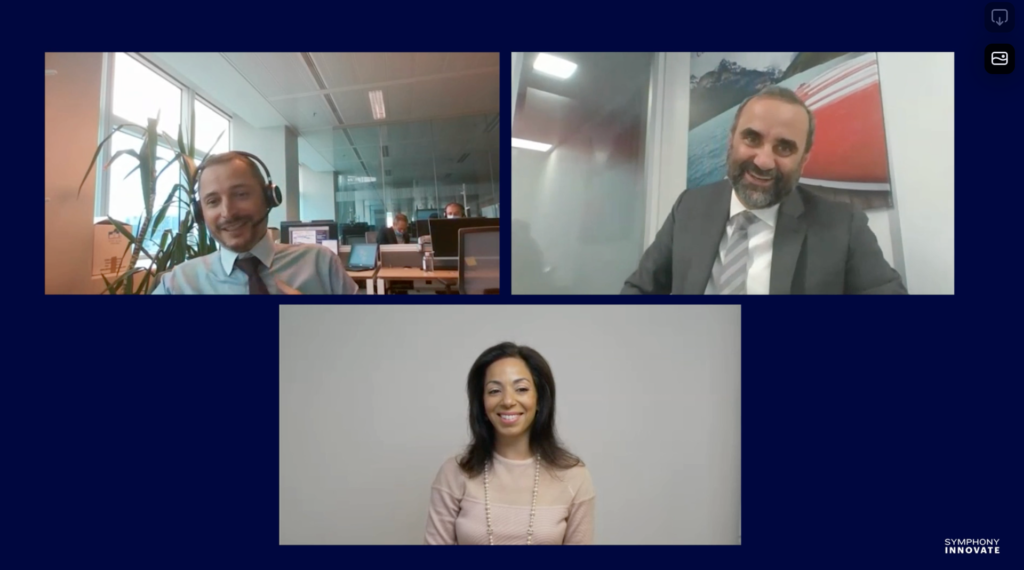 Global Markets Today, Tomorrow, and Beyond
In addition to looking back at past solutions, we also used the day to look at the transformation of the financial industry and the future of global markets. David Gurlé talked with BFAM's CEO/CIO, Benjamin Fuchs, about how Symphony is facilitating a more seamless exchange of information and automating manual processes to make their business more efficient.
"We really don't want to be doing transactions, we don't want to be receiving runs, we don't want to be getting market data via chat format. That's where Symphony has played a key role for us." – Benjamin Fuchs, CEO/CIO, BFAM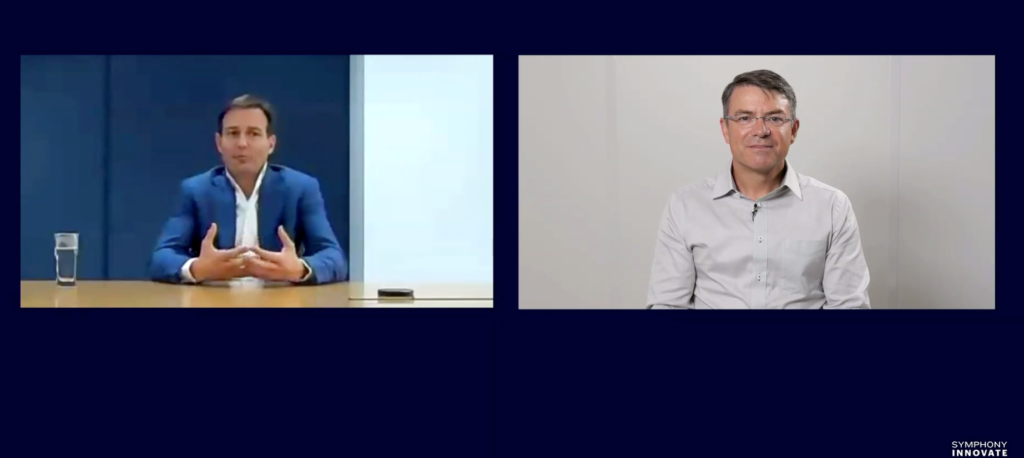 Last but not least, a panel of leaders representing organizations from across the Symphony community joined the discussion to share their insights and commentary on the future of global markets. From front-to-back workflows, to security and encryption, to predictions for the industry in 2025, it was an illuminating dialogue that showcased the incredible progress our community has made, and the exciting developments that lie ahead.
"Symphony has helped play an important role in our journey. Being API-led, using bots to enable workflow, and allowing for a collaborative environment where we can meet our clients where they are." – Brian Steele, Managing Director, Global Head of Market Solutions, Goldman Sachs