Introducing Symphony 2.0's All New Workspaces
Symphony 2.0 is loaded with features and tools to deliver a more intuitive and seamless user experience. The introduction of the workspaces feature is one of the most exciting and unique components of the new platform.
Workspaces allow Symphony users to not only monitor multiple chats or applications in a single window, but also to customize distinct layouts according to their individual needs and preferences. If you used the feature in Symphony 1.5 that allowed users to pin chat windows to a grid, workspaces is the new and improved Symphony 2.0 version of that functionality (if you didn't pin chats in Symphony 1.5, give workspaces a try and let us know what you think).
To create a new workspace, simply drag and drop relevant chats into the same tab, or hover over a chat and click "add to current tab."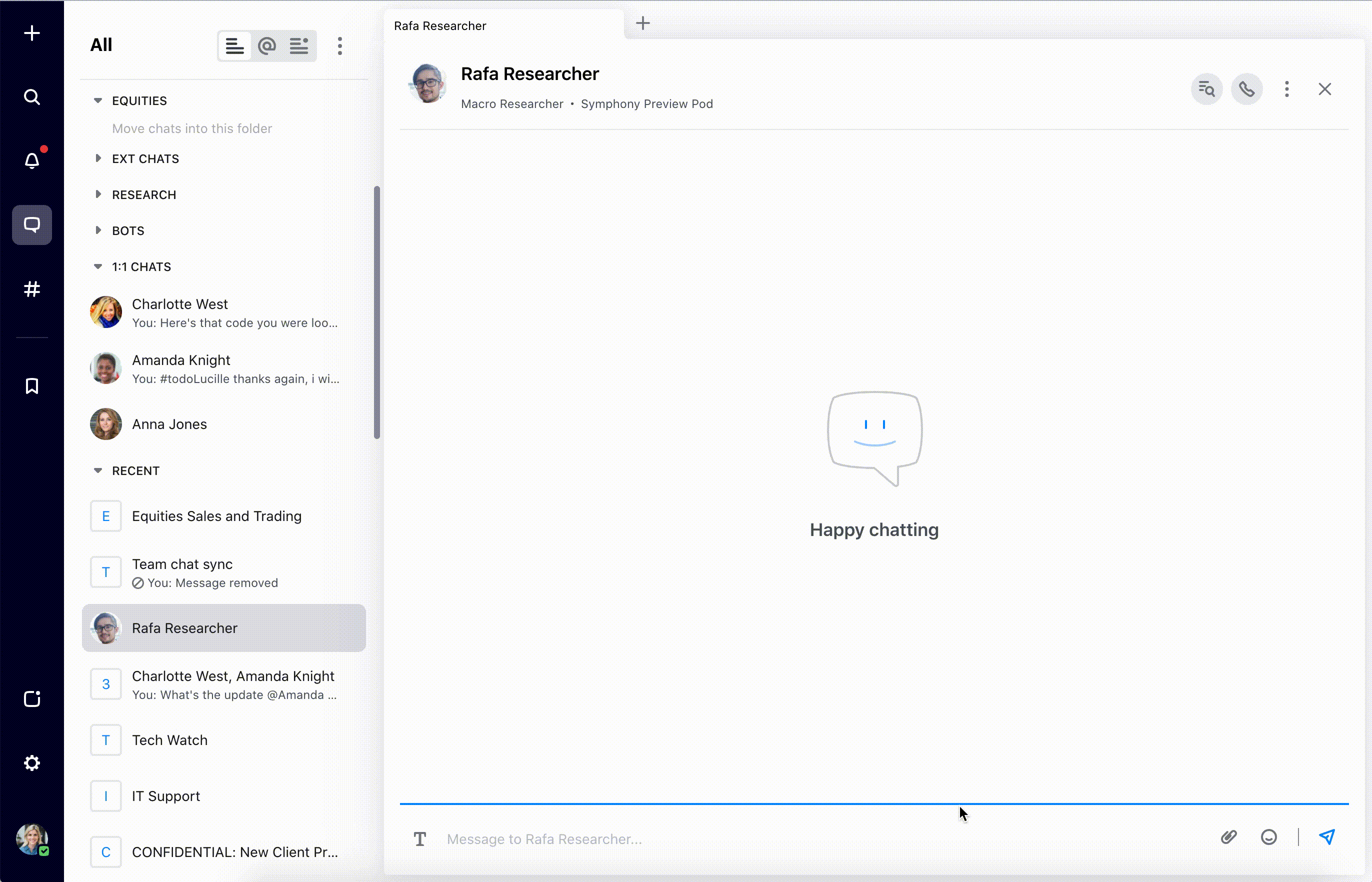 Once you've positioned the chats you want to include, name the tab to save it as a workspace that you can close and relaunch at any time.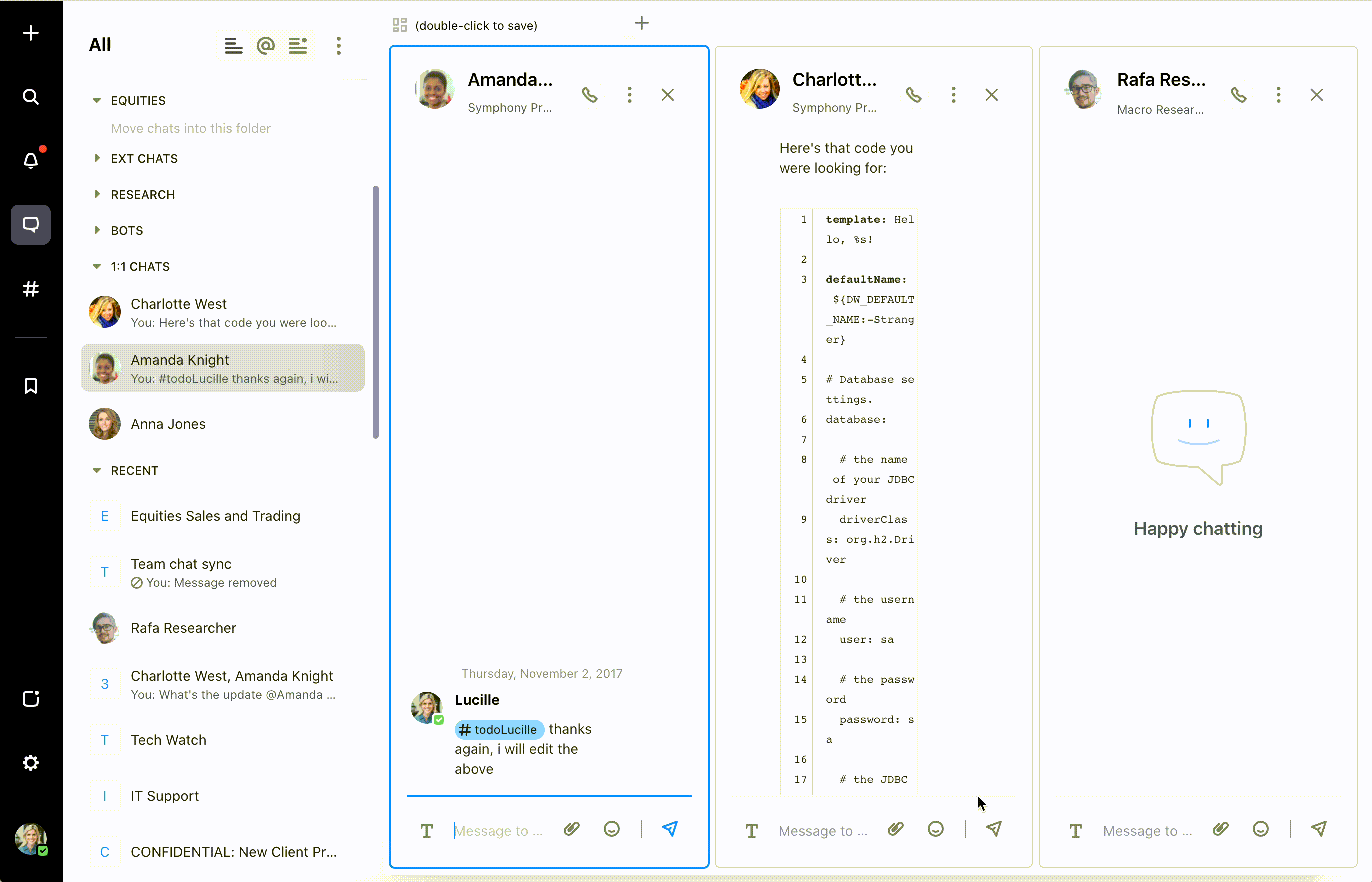 Users can update their workspaces by swapping out the chats in the grid and their changes will be saved automatically. They can create and save multiple workspaces, or have multiple grid layouts open across different tabs.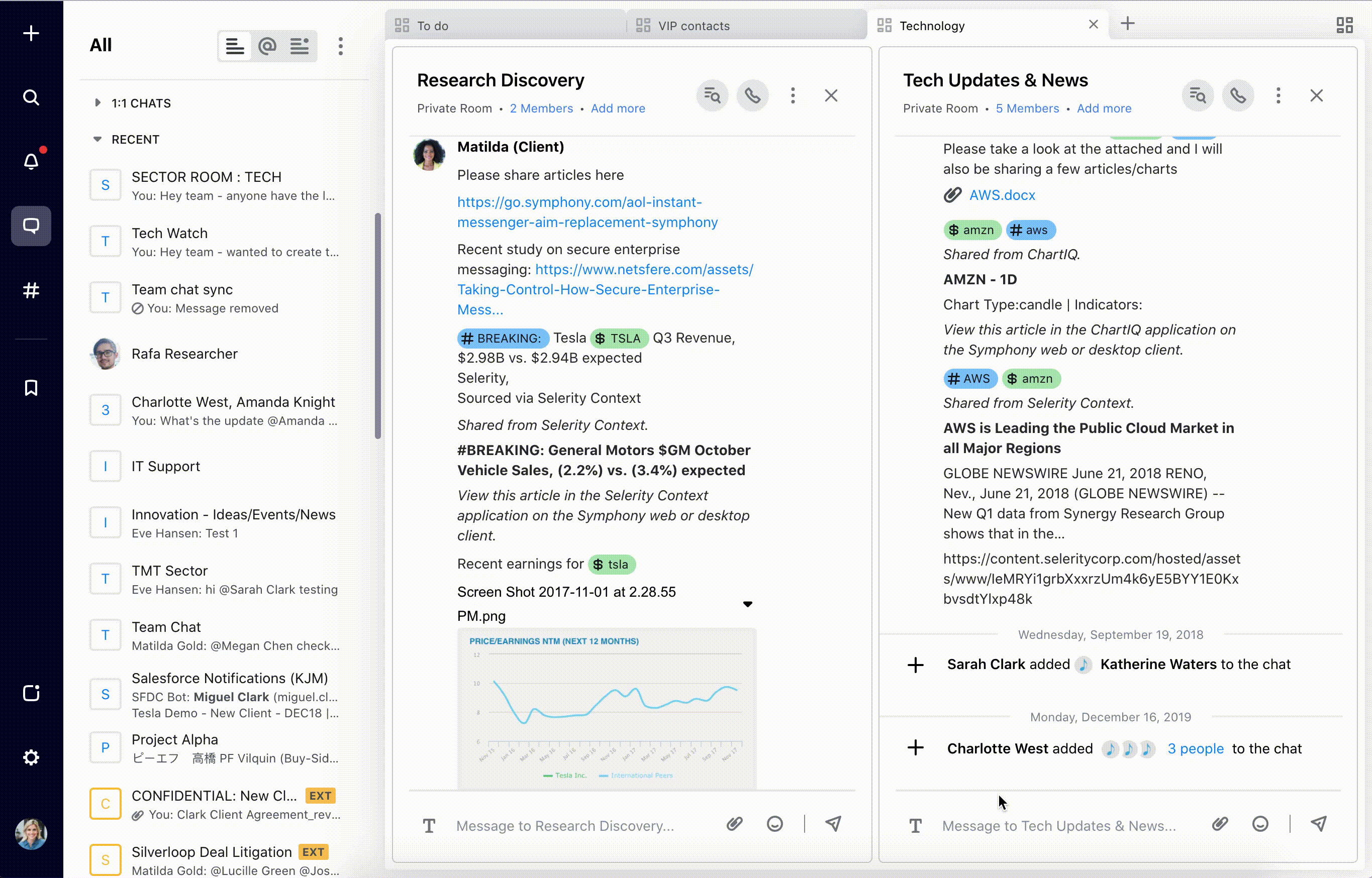 It sounds simple, but we've heard from users that this feature is a game-changer. Workspaces enable you to move quickly between chats, applications, and other modules saved to the same grid, as well as help ensure that you never lose track of an important chat. For example, a trader or salesperson can leverage workspaces to simultaneously monitor incoming chats from multiple clients, and respond quickly to time-sensitive messages. A researcher or IT manager can group conversations by project or topic, and monitor dashboards and integrations.
In addition, users can even pop workspaces out of their main platform to resize and move them anywhere on their screen. I personally like to use workspaces for my most active chat rooms; I find it easy to stay on top of busy conversations this way while keeping less active chats organized with folders.
Workspaces are also a perfect example of how Symphony 2.0 has preserved and enhanced the elements our users loved about previous versions. Users who valued the ability to pin multiple chats onto a single "canvas" wanted more control over how the grids were arranged, as well as the option to create more than one grid at a time. We listened, and workspaces were born out of this feedback–and we hope you'll find them as intuitive, useful, and delightful as we do here at Symphony.