Message without sacrificing compliance
Federate with prominent messaging networks to deliver compliance-enabling communication
Communication without compliance headaches
Non-compliant use of messaging platforms has led to billions in regulatory fines across financial services.
Symphony federates with prominent messaging networks, delivering fast, compliance-enabling communication with clients across their preferred channels.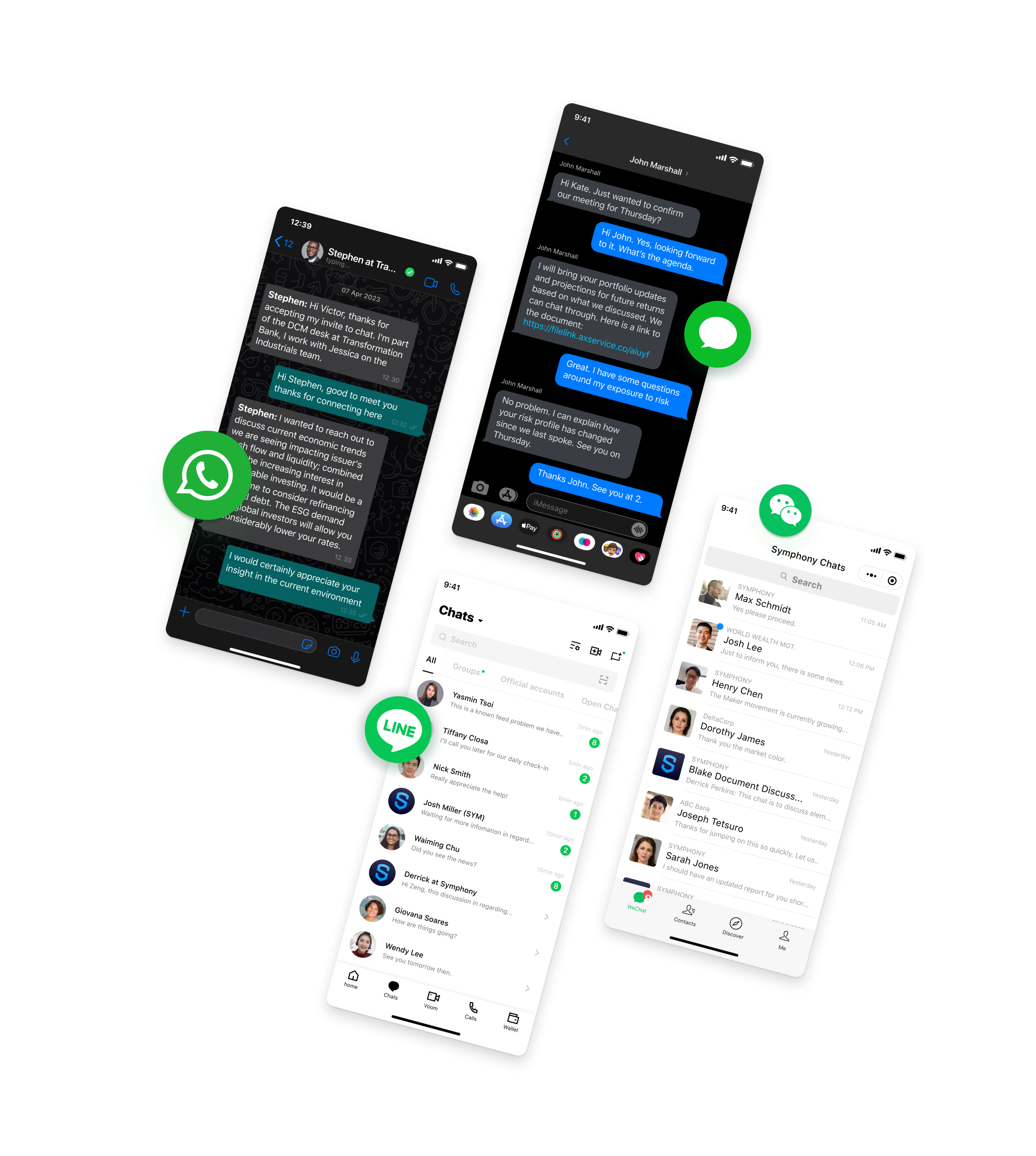 Reduce friction and stay compliant
Communicate with clients across WhatsApp, WeChat, SMS & LINE, reducing friction and expediting communication
Capture and retain messages to help meet recordkeeping requirements for regulatory compliance
Time-saving, easy-to-use features streamline and enhance client communication
Keep using clients' preferred platforms
With over 2 billion users, WhatsApp remains a critical channel for efficient communication. However, as few as 15% of financial firms are adequately monitoring employee use of the platform1
90% of Chinese professionals prefer WeChat2, establishing it as the inroads to China's vast market. Symphony's WeChat federation provides international users a compliance-enabling avenue for communicating with clients.
99% of SMS messages are opened while 97% are read within 15 minutes3. Symphony enables recordkeeping of SMS and mobile voice communications, delivering a high impact channel without sacrificing compliance.
Connect with speed using LINE
LINE grows in prominence as a channel for personalized business outreach in Japan and Southeast Asia. Experience Symphony's federation with LINE to deliver seamless, personalized client communication.
Streamline messaging communications, compliantly
Start messaging with peace of mind