Secure, compliance-enabling client communication
Federation with WhatsApp, WeChat, SMS, LINE & voice
Communication without compliance headaches
Non-compliant use of messaging platforms has led to regulatory scrutiny, hefty fines and reputational risk across financial services.
Symphony enables compliant communication across networks, improving client engagement while helping meet compliance and security requirements.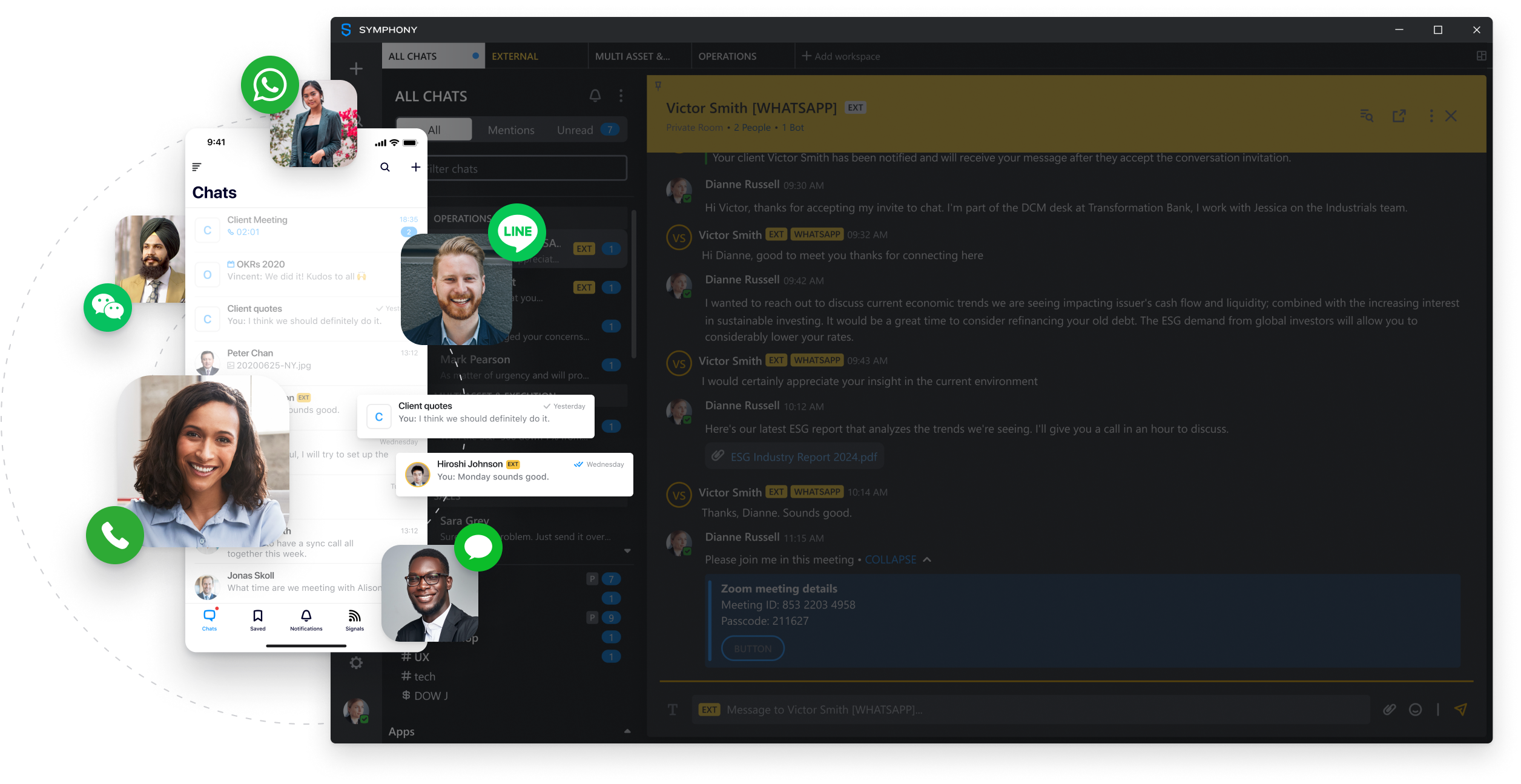 Reduce friction and stay compliant
Meet clients on their preferred communication channels to reduce friction, personalize engagement and improve the experience and efficiency of external customer interactions
Capture communications to archive for regulatory recordkeeping and reduce the risk of fines and reputational damage from ongoing enforcements and scrutiny
Prevent the unintended sharing of sensitive data with real-time monitoring, surveillance and data loss protection capabilities to meet the stringent requirements of financial firms
Compliant Communication in the Mobile Age
See how Symphony helps firms communicate with clients on their
preferred channels, without sacrificing compliance.
See how Symphony helps firms communicate with clients on their preferred channels, without sacrificing compliance.
Broaden your connectivity
Federation acts as a security layer between Symphony and external channels, providing
compliance-enabling communication across public networks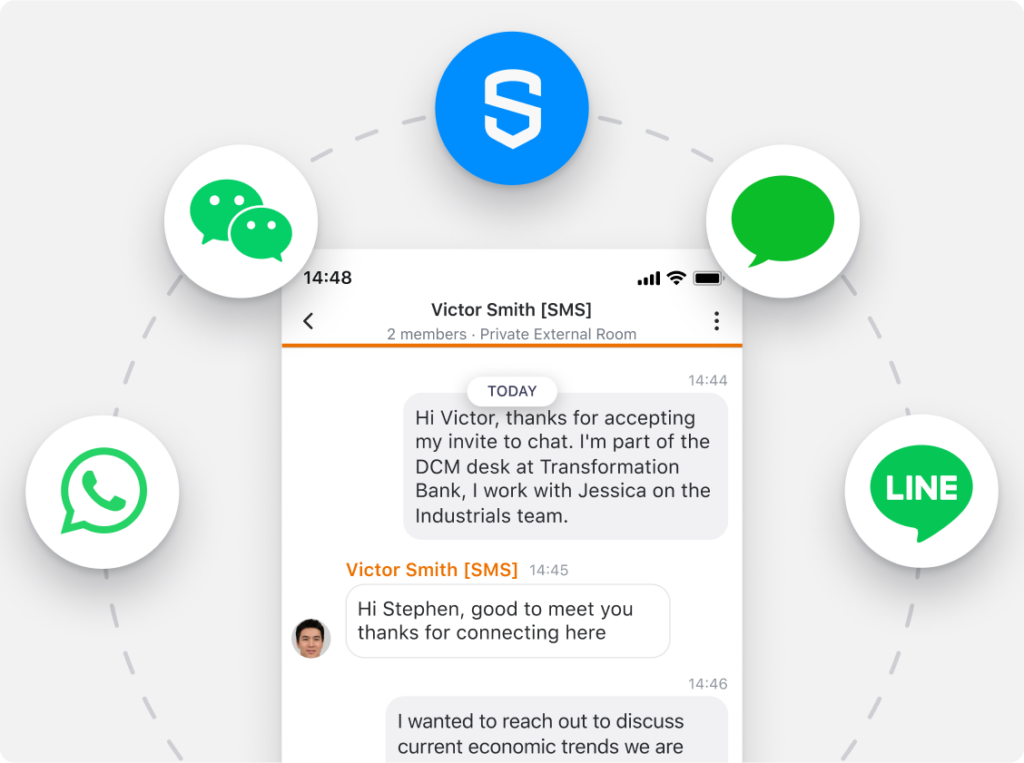 Meet on clients' preferred platforms
Communicate with any user of WhatsApp, WeChat, SMS or LINE from Symphony, enabling compliant connectivity with global messaging networks of over 3 billion people.
Unified compliant communication
Unify trader voice, mobile voice and messaging with a single phone number*. Call or message clients at your desk or on the go for a consistent communication identity that goes where you go.
*Phone number and mobile voice powered by Umony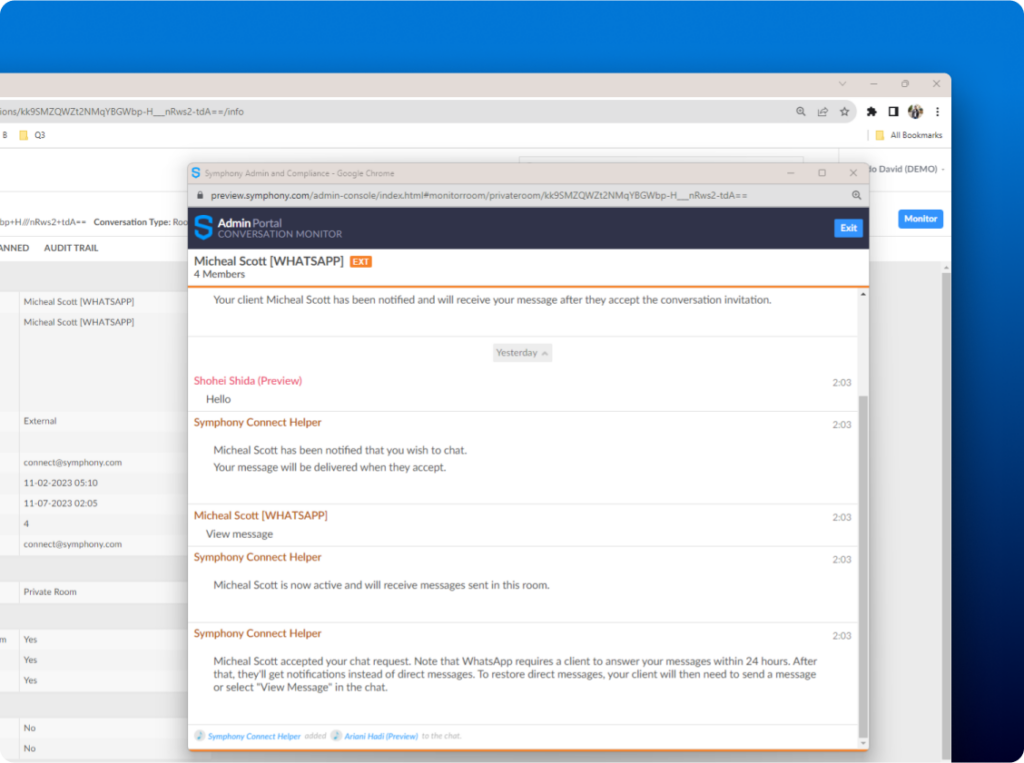 Capture and export time-sequenced conversations and archive with your preferred provider for seamless compliance with regulatory recordkeeping requirements.
For global and regional banks with maximum regulatory and security requirements – and operations spanning continents and asset classes – Federation enables compliant market connectivity in the context of Symphony's deep financial workflows and automations.
Enhance customer engagement by empowering agents to use preferred channels compliantly. Scale innovation through hybrid networks using personal devices and integrated tools. Leverage CRM-driven insights for optimized outreach and improved sales and marketing strategies.
Today's generation of tech-savvy private wealth clients demand the best advice in the shortest amount of time via the channels they are already using. Differentiate and digitalize the client experience by meeting them where they want to be met and removing the friction of fragmented legacy tools.
Real-time decision making and effective client relationship management are paramount. With single numbers across trader voice and messaging, everyone from traders and portfolio managers to analysts and executives can move efficiently without sacrificing compliance.
From crop yields to crude stock, WhatsApp is where news breaks. Enable and unify compliant WhatsApp messaging and trader voice under one number to facilitate fast communication across platforms, helping stay ahead of volatility and capitalize on fleeting opportunities.
Staying abreast of the latest trends and market movements is critical. Gather data, access external research or compare insights with counterparts via a quick text, WhatsApp message or phone call, helping foster relationships and keep an ear to the street so analysts can stay ahead of the curve.
IG Markets' game changing client communication
IG Markets implemented Symphony's Federation solution for WhatsApp messaging with premium clients
Engagement with clients on WhatsApp is a boon to both retention and business development
"Federation ticked all of the boxes we needed on both the commercial side and the compliance side"
All within Symphony's secure collaboration and workflow platform
Symphony is trusted across financial services
We're happy to answer questions and get you acquainted with Symphony and our family of products including Cloud9, StreetLinx and Amenity Analytics.