A financial services directory you can trust
Seamlessly find and connect to counterparties
A financial services directory you can trust
Accelerate interfirm workflows by accurately and efficiently connecting to external counterparties with Symphony's Directory.
Standardized taxonomies, firm-provided data and entitlement-based controls help connect market participants safely and securely while reducing time spent searching for the correct teams or individuals.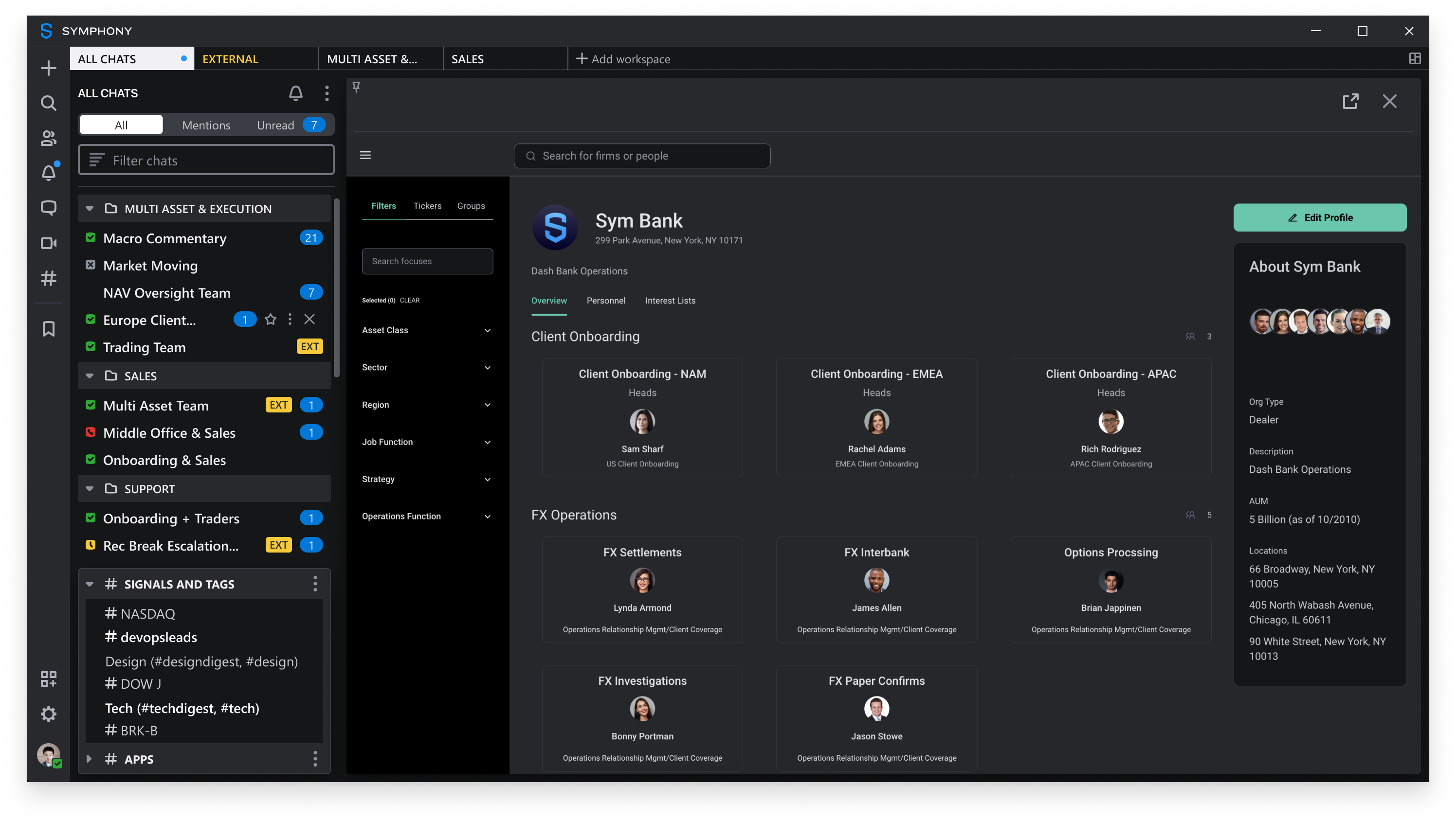 Foster networks by connecting to relevant external firms, groups, desks or individuals while regulating access via entitlement-based controls.
Collaborate externally in seconds – leverage standardized, enriched taxonomies to search, filter and initiate communication with counterparties.
Confidently find the intended recipient – firm-provided data helps ensure the appropriate counterparty is reached via the right channel.
Enriched exchange of organizational data
Streamline back office workflows and prepare for the T+1 settlement cycle. Join major market participants in a first of its kind operations-focused directory.
Front office connectivity
Search and filter the dealer universe, minimize missed opportunities and filter out the noise to help drive connectivity between counterparties.
Increase transparency and reduce friction
The movement to T+1 is forcing the industry to review its operating models and communications strategies.
Today's workflows consist of millions of emails sent in hope of being received by the right person.
The Operations Directory streamlines exception management and issue resolution, helping prepare for the condensed settlement cycle.
Introducing The Operations Directory
We're happy to answer questions and get you acquainted with Symphony and our family of products including Cloud9, StreetLinx and Amenity Analytics.