Intelligent Research Tagging
Intelligent Tagging & Research Authoring
Create and curate discoverable content with a comprehensive tagging solution that applies entity and thematic tags
Research analysts are rarely happy with content discoverability. This is due to inaccurate or inconsistent tagging, over/under-tagging, or the inability to match topics and themes to client interest.
Amenity empowers researchers to create and curate discoverable content with a comprehensive tagging solution that applies accurate and consistent entity and thematic tags on a granular level.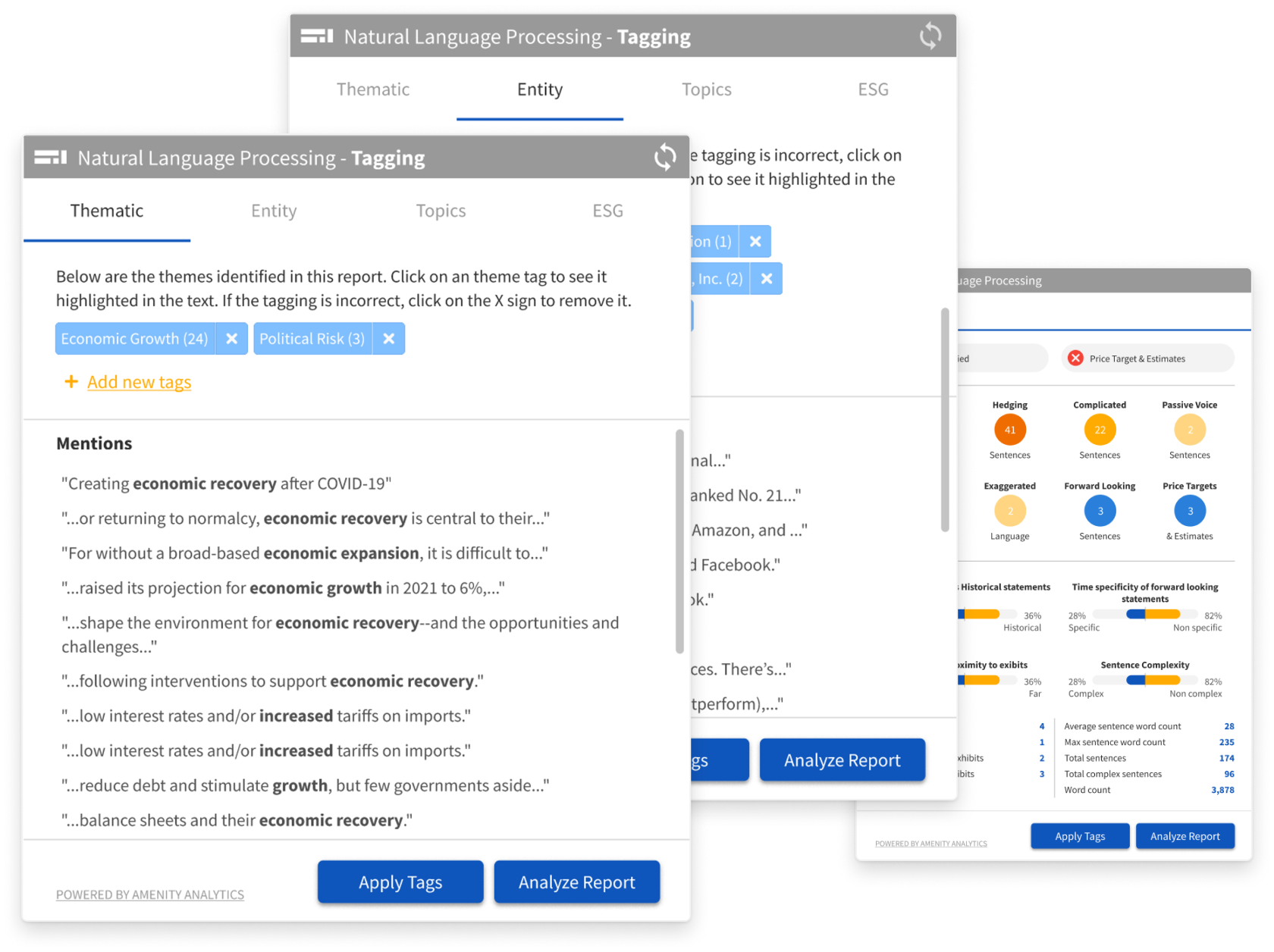 Create content that you can effectively leverage internally and externally.
Increase research visibility and support compliance with smart tagging of companies and entities.
Increase discoverability and surface important themes in your research reports.
Significantly improve the research supervisory and editorial review process.
Intelligent Tagging use cases
Allocator-Manager Research
Rate and score investment managers with proprietary taxonomies that extract and analyze information from manager-supplied materials. (RFPs, DDQs, pitchbooks, meeting notes, etc.)
Research Quality Analysis
Analyze broker/internal research. Institutional investors can prioritize, classify, and extract content with models built with our end-to-end development platform or data teams.
Identify material ESG topics and themes at scale by applying or supplementing Amenity's classification system. Surface ESG factors in published and private research documents.
Detects close to 160,000 public and private companies globally by name and by ticker (where available). Includes all major US equities (including Russell 3000 and S&P 500), 7,000+ international equities, as well as 10,000+ private companies in the US and worldwide.
Catches variations of company names and common company name misspellings. Support for tagging of more entities such as currencies, geographies, industries, and asset classes will be available.
Automatic and accurate tagging of companies and other entities mentioned in research reports. Makes cumbersome tagging work easy for the authoring analyst and operational teams.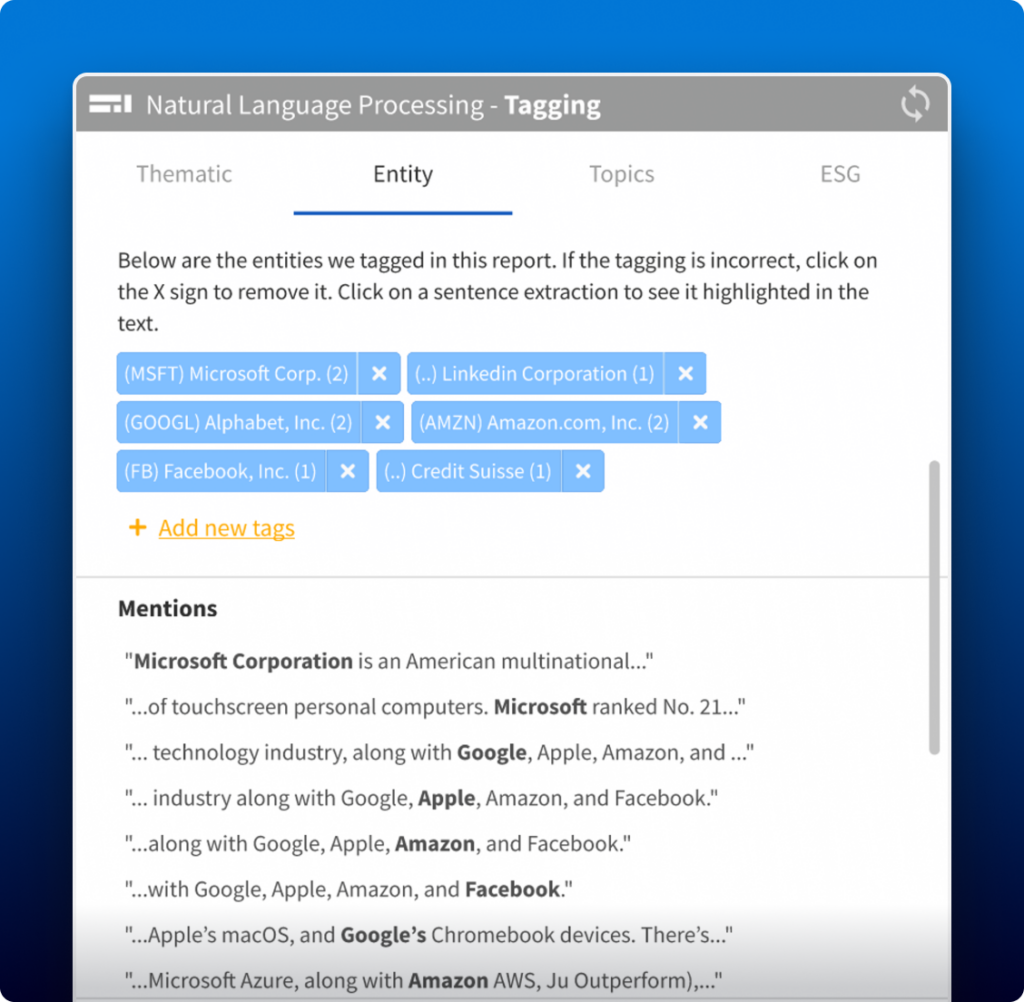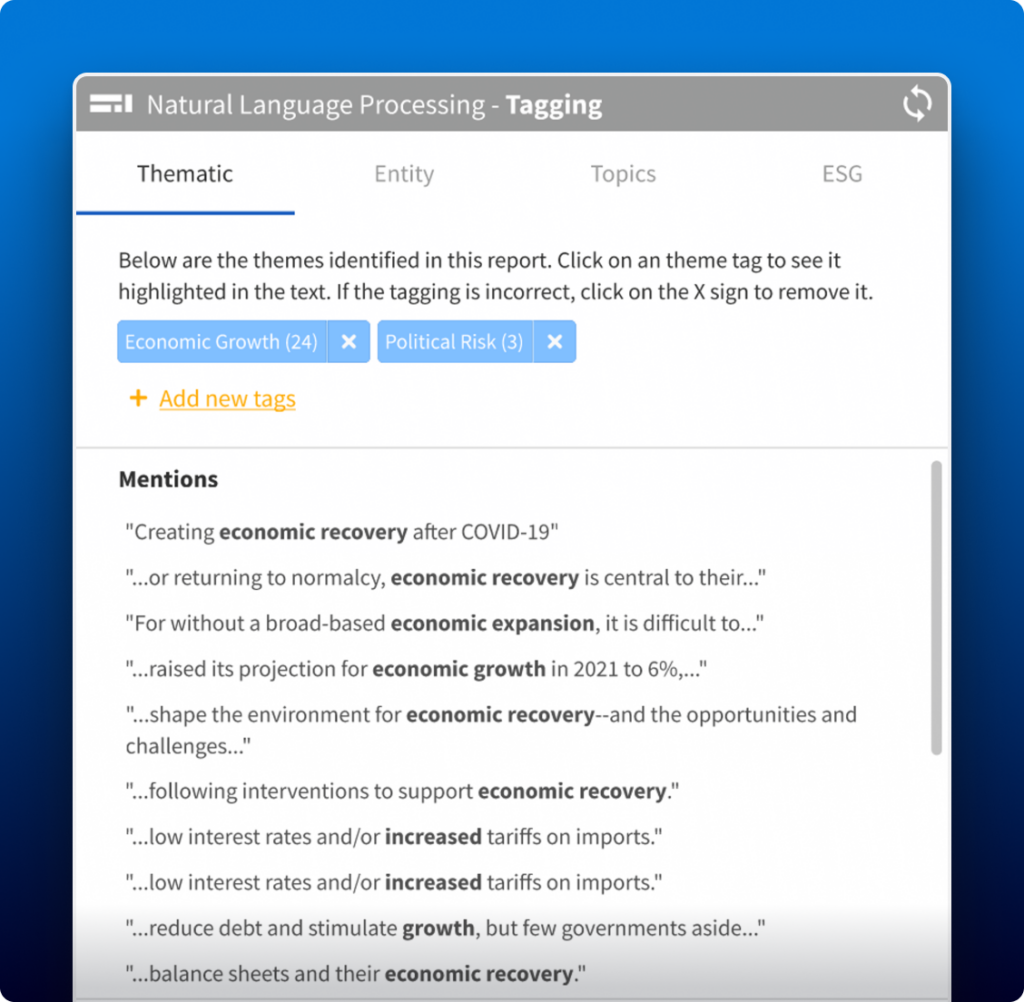 Surface relevant content in documents based on a proprietary taxonomy of specific business and finance themes, aggregated in broad categories such as Macroeconomics, Technology, ESG, and more.
Our solution is fully automated with bulk processing of files to assign tags without human supervision. But analysts can opt to stay in the decision loop by accepting/rejecting and adding/deleting tags.
Ensures more nuanced tagging of ESG-related themes. These themes are flexible. You can choose all or some of Amenity's themes, build your own themes, or combine them for maximum value.
Themes can be organized in multi-level hierarchies (parent themes > sub themes > granular topics) and be further configured by applying thresholds or cutoffs across all themes. We make the process easy with our proprietary Taxonomy Editor tool.
Capture common issues (such as exaggerated language). Reduce the risk of heavy fines that FINRA has imposed for supervisory failures.
Significantly reduce review times. Eliminate time spent identifying common writing mistakes (such as use of passive voice and hedging language) and enable reviewers to focus on the substance of the writing for mission-critical and high-value tasks.
Help analysts, research writers, and editors to quickly and significantly improve the quality of research reports. Provide writing performance metrics that enable writers to improve their work and leaders to efficiently evaluate writing performance at scale.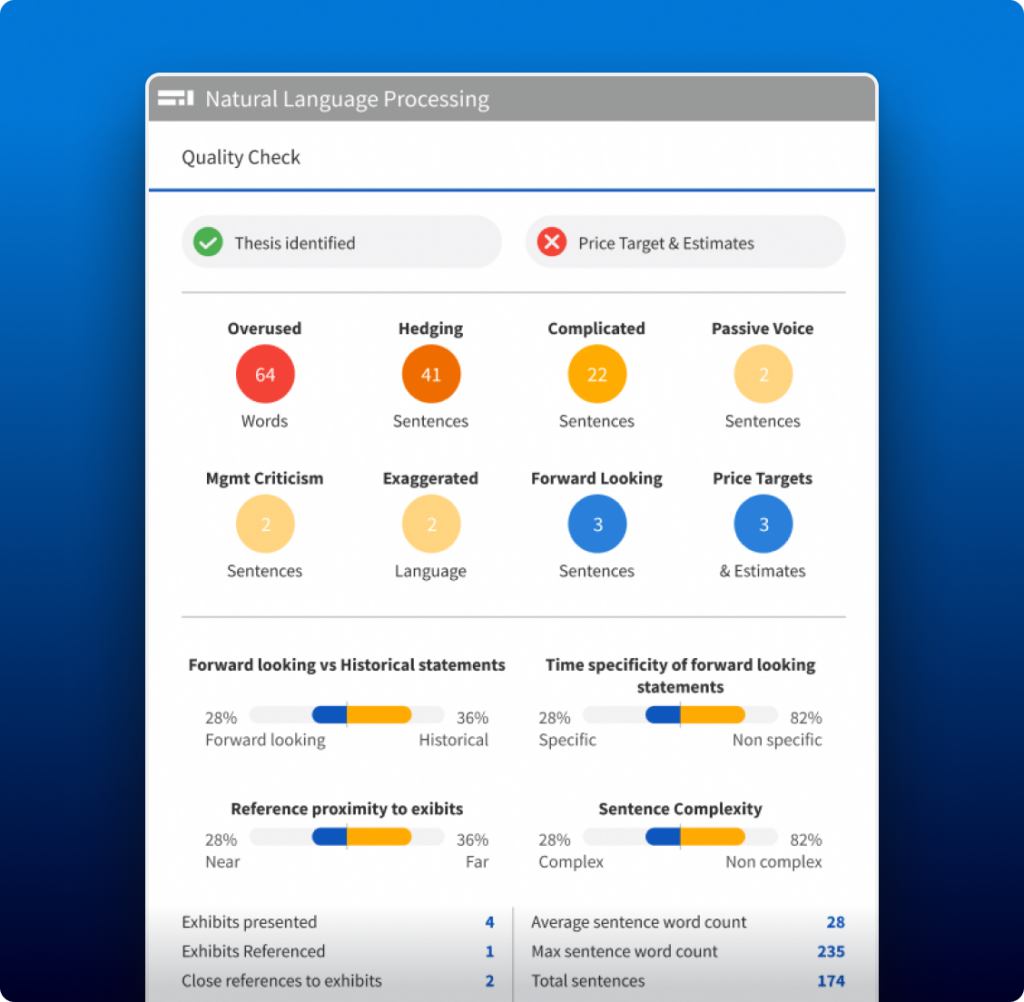 Intelligent research tagging
We're happy to answer questions and get you acquainted with Symphony and our family of products including Cloud9, StreetLinx and Amenity Analytics.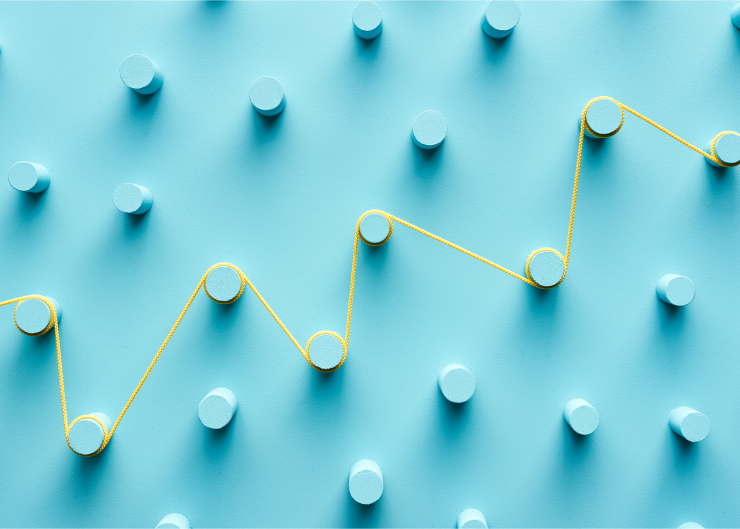 Stay Informed and See Our Analytics in Action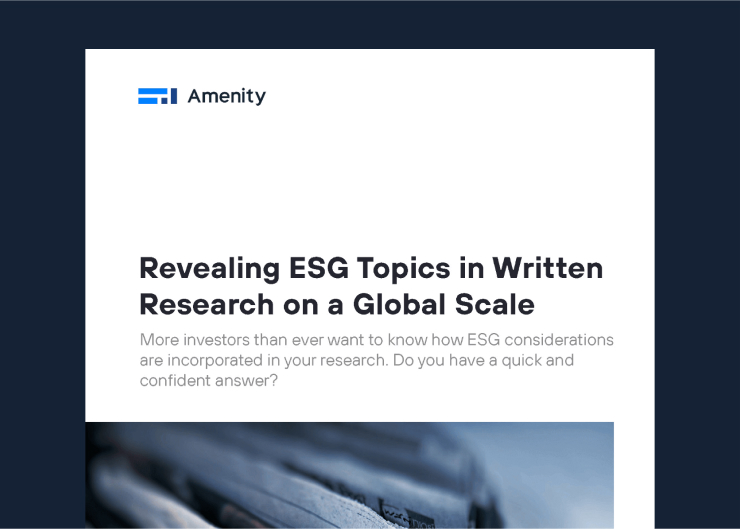 Intelligent Research Tagging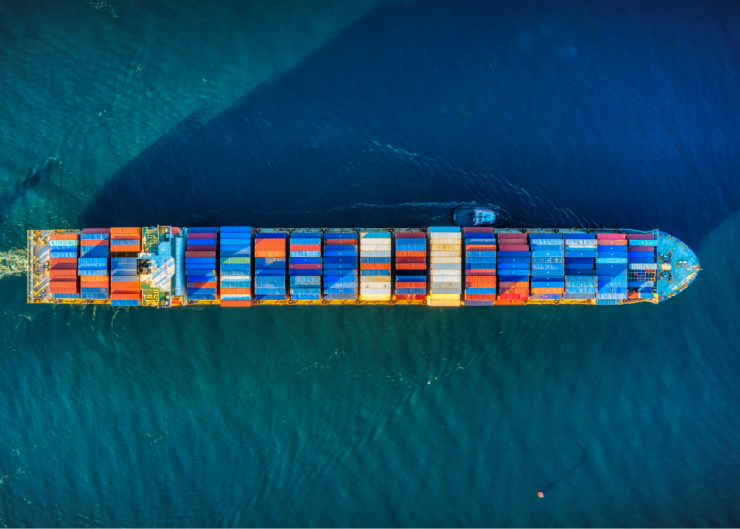 Revealing ESG Topics in Written Research on a Global Scale