Welcome to Symphony Meetings, Android Users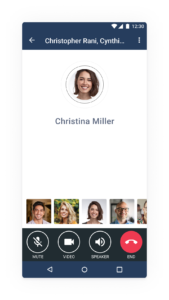 In August, we introduced Symphony Meetings for iOS. The Meetings app enables users to start a meeting with one tap, move seamlessly from a chat to a meeting, and join a meeting as easily as if they were picking up a phone call–all via mobile device. These features are now also available to Android users via the Symphony Meetings app for Android.
The response to Meetings from our customers has been tremendously positive. In particular, Symphony users are enthusiastic about the ability to start a meeting instantly from an existing chat–no more opening your email program, adding each individual invitee, pasting in dial-in details, and waiting for each participant to receive the invitation and join. This is a major upgrade in terms of convenience, particularly for those who use Symphony on-the-go. The Meetings app offers users the same functionality they'll find on the desktop, enabling them to conduct meetings from anywhere via mobile phone. In addition, both iOS and Android versions of the app now offer users the ability to select their desired audio output for meetings, such as a Bluetooth speaker or other listening device.
As the international Symphony community continues to grow (see our recent integration with WeChat), introducing Meetings for Android is just one of the ways we're working to make it easy for our users to collaborate–no matter where in the world they are. Symphony users in Asia and other areas where Android is prevalent now have access to the same features as iOS users. 
Stay tuned for announcements about new features and updates to Meetings, including support for Meetings on Symphony for BlackBerry and Symphony for MobileIron, coming next year for both iOS and Android. To download Symphony for Android, click here.