Not Your Mother's Web Conferencing: Introducing Symphony Meetings for iOS
The world of work has changed. It's become more global, more remote, more fluid. This presents lots of benefits, like the flexibility to stay home with a sick child, or to run to an appointment during work hours, but also means that communication between co-workers becomes more complicated – and more important – than ever.
Currently, professionals can expect to communicate with colleagues via email, phone calls, meeting software and even text. But this model is cumbersome and could pose governance or compliance risks. At Symphony, we understand this. That's why we created a collaboration platform that minimizes context-switching and allows you to securely connect with your co-workers from anywhere.
Introducing Symphony Meetings on Mobile
With Symphony's mobile app, you can message 1:1 and in groups, share and find documents, and now with Symphony Meetings, you can even conduct voice, video or screen-sharing calls. Symphony Meetings is ideal for brainstorms, agendas, and team status updates. Now that it's included on mobile, you can easily capture ideas and collaborate in real-time – from anywhere – freeing you up to spend less time at your desks, pick up work while on the go, and get some time back in your days.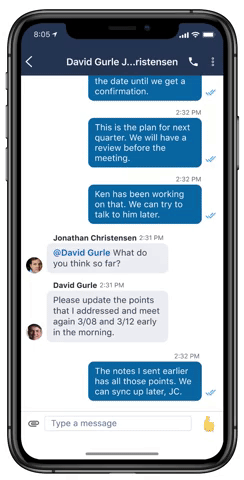 What Makes 'Meetings on iOS' So Awesome?
Anytime, Anywhere: In today's global workforce, not everyone is online and working at the same time. At its core, Symphony Meetings is about making it easier to work with others no matter where they are. It promotes the organic sharing of information and online collaboration between co-workers the next desk over and across the world. 

Organic Flow from Chat to Call: We've eliminated the cumbersome procedures and UI typically associated with meeting software. Symphony Meetings gives you the ability to seamlessly graduate any given conversation from chat to audio call to screen share and back.

One Tap Start and Join Meetings: You can start or join a meeting in a Symphony conversation – so there is no need to add individual participants.One tap and you have initiated a meeting with everyone in the conversation. Those who can and want to join simply go live.

Immersive Call Experience: In our next release, we will introduce Apple CallKit support which takes over the screen as soon as you have an incoming meeting and allows you to join Symphony Meetings as simply as answering a phone call.
First iOS, Then the World
Symphony Meetings is currently supported on the Symphony iOS app, and Meetings on Android will be released this summer. Support for Meetings on "Symphony for BlackBerry" and "Symphony for MobileIron" for both iOS and Android is also coming later this year.
We're excited to keep improving the Symphony mobile experience and help our customers collaborate more seamlessly and securely. Download today and give it try. We'd love to hear what you think. Find us on Twitter @Symphony, Facebook and LinkedIn, or visit www.symphony.com for more details about our platform.