WFH or RTO? Finding a Happy Medium
Earlier this year, in an
interview with the New Yorker
, Microsoft CEO Satya Nadella said, "Digital technology should not be a substitute for human connection."
From one Nadella to another, I couldn't agree more.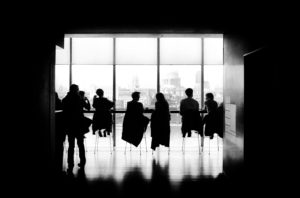 As we all emerge from more than a year of staying home, companies are navigating the challenge of bringing people back to offices that have remained mostly empty since last spring. In terms of "return-to-office" policies, the financial and tech industries seem to be at opposite ends of the spectrum: JP Morgan Chase CEO Jamie Dimon has
famously declared
that he will require employees to return to the office in the coming months, whereas Twitter CEO Jack Dorsey encouraged employees to
work from home whenever it suits them
.
Symphony is in the business of digital collaboration, so it's no secret that remote work models are good for our business. The fewer opportunities workers have to interact face-to-face, the more they rely on chat, virtual meetings, and other collaboration tools.
During 2020
, our monthly active users increased by 35%, and the Symphony community sent three times as many messages and conducted 380% more meetings than in the prior year.
But with that said, we firmly believe that when it comes to deciding who should return to work and when, companies should prioritize the best interests of the humans who have spent the past year behind their screens–even if technology enables them to work productively. And I believe that for most, in-person interaction is a necessary part of work.
Working in an office environment strengthens human connection with our colleagues. It helps improve the quality of our communication, and reduce the noise created by overreliance on chat. Face-to-face interaction also builds trust, helps junior professionals learn and grow, and allows workers to be more open with their personalities and senses of humor (which is almost impossible over chat). I believe that this builds a stronger team and allows for better collaboration across organizations.
Before COVID-19, one might argue that in certain professions, life revolved disproportionately around work and the office. During the pandemic, we experienced the other extreme: being confined to our homes during both work and personal time. We saw kids and pets
interrupt important conference calls
, and sometimes struggled to maintain boundaries between our professional and personal lives. I know that I certainly did (and I know my wife would agree).
Is remote working efficient? Of course. We save time on commutes and many of the distractions of the office. We know chat is here to stay, and particularly for work between professionals who work in different locations, platforms like Symphony play a critical role. But I believe that it's incumbent upon organizations to make sure their employees interact face-to-face, and that means establishing a happy medium between remote and in-person work.
What constitutes a "happy medium" between returning to the office full-time and shifting to permanent remote work will vary from person to person, team to team, company to company. Maybe some team members prefer to spend two or three days per week at home, while others thrive on the daily routine of coming to the office. Organizations need to listen to their teams and prioritize employees' human needs in a way that encourages in-person collaboration while respecting a variety of preferences and comfort levels as we all transition out of pandemic mode. Locating a happy medium between work-from-home and return-to-office may involve some trial and error, but I am confident the outcome will be worth the effort.
We'd love to hear your thoughts on the return to office — to weigh in, join the Symphony community's dialogue on LinkedIn
here
.
Please click here, if the form above isn't displayed properly
Google Cloud to become Symphony's primary cloud provider Sunnyvale, Calif., New York, and London, July 20, 2021 – Symphony, the leading markets' infrastructure and technology