Client Connectivity on WhatsApp via Symphony
With more than two billion users around the globe, WhatsApp is ubiquitous in our personal and professional lives. Now imagine the reach and convenience of WhatsApp integrated into a platform like Symphony, which satisfies the highest security and compliance requirements that govern communications around the globe. This is especially important for regulated markets such as financial services.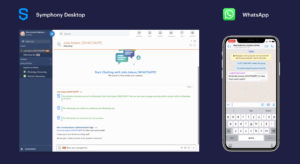 At Innovate Europe 2020, we demonstrated our newest Symphony Connect for WhatsApp. As a WhatsApp Business solution provider (BSP), Symphony can onboard customers directly to the gateway between our community of users and applications and the WhatsApp user base.
This solution, along with our previously announced WeChat connectivity offering, enables Symphony customers to engage with their clients via the world's most popular messaging apps while adhering to the strict compliance obligations demanded by the regulatory authorities that oversee Symphony customers' activities.
Security and compliance are the foundation of the Symphony platform where over half a million users in our trusted community experience the benefits of borderless communications within their organization and each of their ecosystems. Now, thanks to Symphony Connect for WhatsApp, our customers can apply that same level of trust to their interactions with their clients who use WhatsApp while ensuring the exchanged content is exported to banks' surveillance systems.
Now more than ever, connectivity is crucial. We are excited to make WhatsApp available to the Symphony community. To see our WhatsApp and WeChat integrations in action, check out the demo from Symphony Innovate Europe 2020.