With the Symphony 2.0 rollout underway, the mobile team is excited to introduce a corresponding refresh for the Symphony mobile app. The new version of the app offers improved speed and performance for on-the-go users, as well as an updated design that reflects the modern, streamlined look and feel of Symphony 2.0.


Take a look below for an overview of what users can expect from the new Symphony mobile experience. If you're already an avid user of the app, we think you'll be pleased with these updates. And if you don't have the mobile app yet, or haven't used it in a while, now is a great time to give it a try.

Faster speeds, enhanced performance

Speed and performance are crucial to members of the Symphony community. Just like the Symphony 2.0 desktop experience, the new app offers a faster, more stable mobile experience. This means our customers can count on the app to function while they are in transit, all over the world.

For an example, let's take a look at the new and improved chat list, which displays all of a user's conversations in Symphony. The chat list is not only the first screen a user sees after logging into the app, but is also where our customers spend the most time. And, the list loads more quickly than previous versions, allowing users to more seamlessly switch from desktop and mobile with the assurance that messages are synchronized. Along with the rest of the app, the chat list has also undergone a design update to make it easier to read and more visually appealing.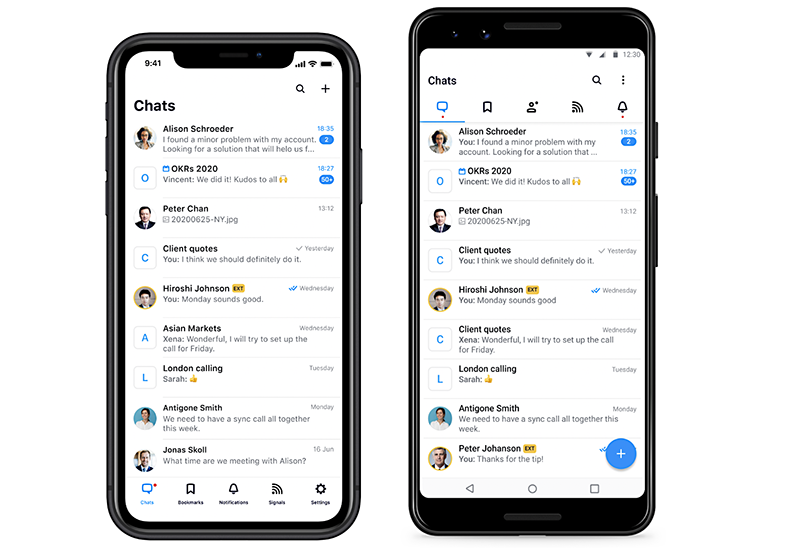 A refreshing new design


As you can see from these pictures, the new Symphony 2.0 design language is a breath of fresh air. In addition to a more modern look, the new design brings simplicity and delight, to powerful interactions. From the color scheme and typography to the shape of the avatars, the updated app reflects the aesthetic of Symphony 2.0, providing a harmonious experience for users switching between the desktop client and their mobile devices. This is especially true for users accessing the mobile app on a tablet, where the layout and user interface closely resembles the experience of using Symphony 2.0 on a desktop: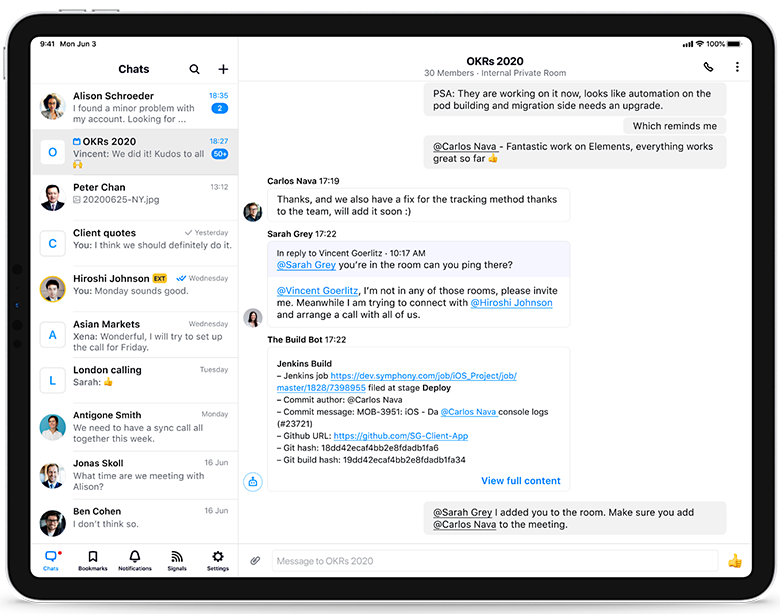 We know from user data that those who leverage both the desktop client and the mobile app get the most out of Symphony. As a result, we're excited to extend the enhanced speed, performance, look, and feel of Symphony 2.0 to the mobile experience.


Most users will download the Symphony mobile app via their enterprise system. The app is also available in the iOS App Store or Google Play Store. We can't wait to hear your feedback!