Five Tips to Win in the New Normal -- With Symphony
Several months into the global coronavirus pandemic, the financial services industry has still not returned to business as usual. Instead, we're adjusting to a "new normal," one defined by continuous change, ongoing uncertainty, and a lack of clear vision.
To gather insights on how our clients are adapting to this new normal, we conducted a survey of global financial institutions. Forty-three percent of respondents said they believe they'll be having client meetings by the end of this year, but roughly the same number don't expect to return to their own offices until the first quarter of 2021. Let's pause here for a moment. Regardless of how you look at this, these responses mean that we'll all be working remotely – and relying on technology – in some shape or form for many months to come.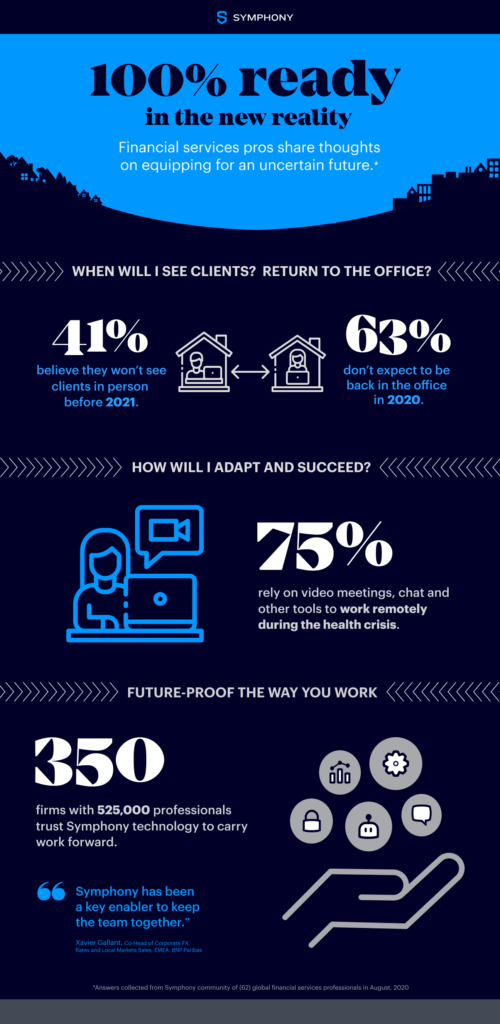 To delve into this reality, we recently hosted a webinar and shared five ways Symphony can help financial institutions stay connected, adapt, and thrive during uncertain times:
Refresh your client engagement strategy

With in-person communication limited for the foreseeable future, financial professionals need to find alternative ways to stay connected. You have to engage with clients on their terms. The best way to accomplish this is by leveraging a tapestry of channels: for example, a combination of video conferencing plus chat/text. Keeping the lines of communication open according to clients' preferences, and knowing which medium to use when, can help fortify client relationships even when face-to-face meetings aren't possible.
 2. Connect to the world's largest financial services network 

More than 350 financial institutions around the world are active on Symphony, and during the first half of 2020, external active users (those using Symphony to connect with users outside of their own organizations) increased by 20%. Connecting with clients on Symphony via our trusted Directory is like extending a digital handshake that makes it easy to keep in touch—no matter where you are in the world. To enable external access, talk to your firm's Symphony administrator.
 3. Respond swiftly to client needs via mobile

For many of us, the work day looks and feels different than it did pre-pandemic. Working hours may have shifted, but responding to time-sensitive client inquiries and messages is as important as ever–and in some cases, clients expect even faster response times than before. Mobile apps allow you to stay on top of important messages and respond immediately to clients, whether you're working from home or on-the-go (or like many of, dealing with household needs or childcare during typical "office hours."
The Symphony mobile app allows users to customize notifications in order to surface the most important information quickly. We saw an incredible 120% increase in mobile usage of Symphony during the first half of 2020. With our updated app as part of the upcoming Symphony 2.0 rollout, there's never been a better time to go mobile. 
 4. Leverage bots to create a differentiated client experience 
With more than 2,000 bots on the Symphony platform, the opportunities to deliver a truly differentiated client experience are virtually endless. Client-facing chatbots can provide insights and pricing instantly on demand, empowering clients to self-serve and get the information they need in a timely manner. Internally, a Salesforce integration allows Symphony users to log, recall, search for client information from anywhere in the world–enabling users to streamline communications and enrich client relationships. To see members of the Symphony community showcase their latest bots, be sure to join us virtually for Symphony Innovate New York 2020.
 5. Connect with clients where they are

When it comes to communication platforms, one size does not fit all, so it's important to meet clients where they are. Symphony users can leverage our WeChat and WhatsApp Connect integrations in order to communicate via these platforms without compromising security or compliance–a feature that is in high demand from sales teams, research desks and wealth advisors whose clients are already comfortable using these tools. Alternatively, Symphony users can also bring their clients onto the Symphony platform via Symphony Community Connect, or a private Symphony Customer Connect channel. We actively partner with our users to cater to the majority of client counterpart use cases, domestically and internationally. 
These are just a few of the ways Symphony is supporting its users and their clients as we all adjust to new ways of doing business. To learn more about these and other Symphony capabilities and features, talk to your Symphony account manager.