Integrated voice collaboration
The cross-organizational solution native to Symphony
Transition seamlessly from chat to voice in Symphony – no dialing or ringing – to break down communication silos, boost workflow efficiency, and enable quick and simple collaboration.
Communicate across your whole organization from traders to operations and everything in between.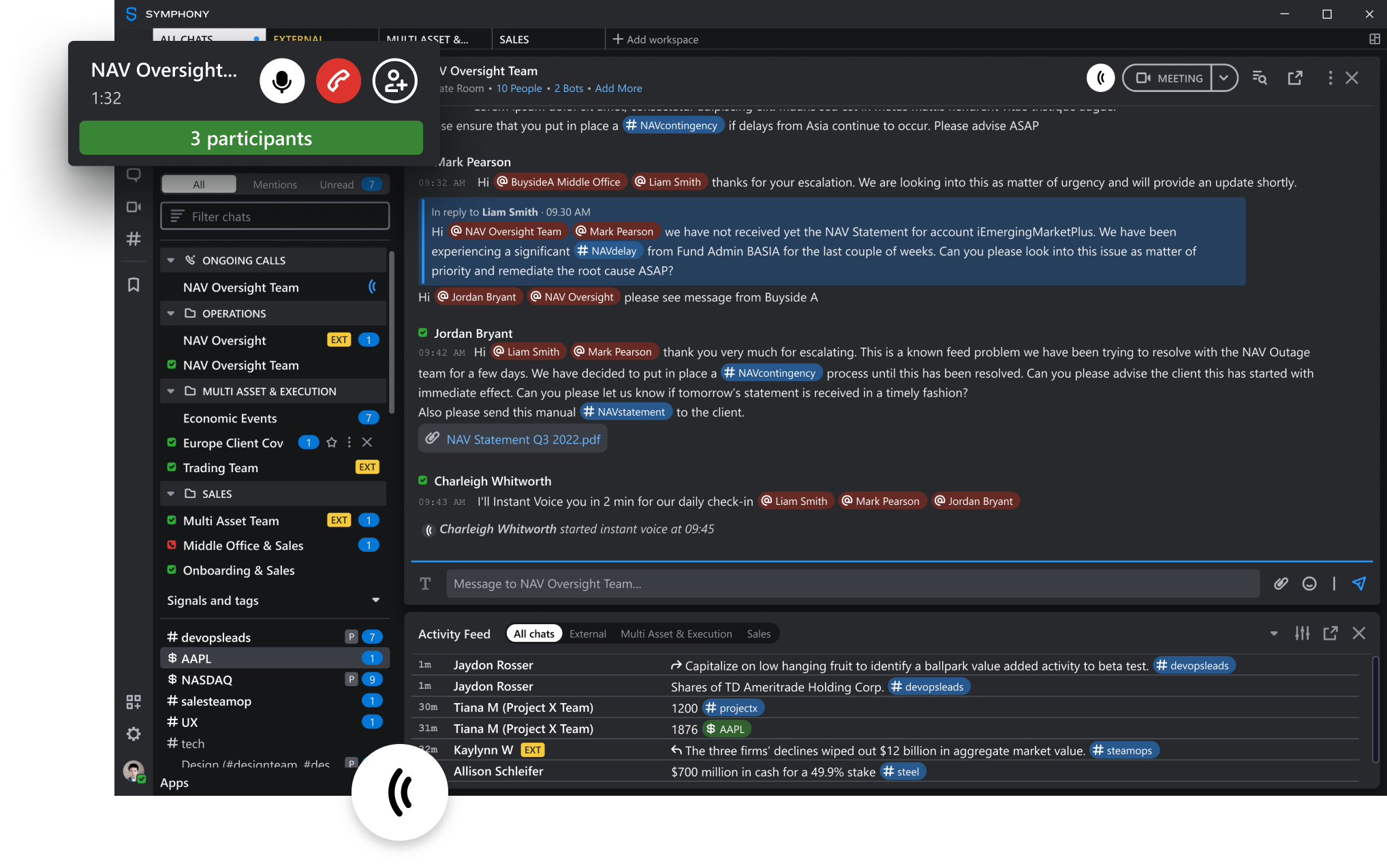 Connect broadly, accelerate efficiently
Distributed, compliance-enabled workflows, delivering instant connectivity – remotely or in the office
Share critical information seamlessly via voice connectivity – adding speed, efficiency and accuracy
Rich metadata and interoperability empowers voice workflow analysis and insight
Connectivity for the whole organization
Real-time communication from chat to voice in Symphony for everyday interactions – saving you time and keeping you one step ahead.
Optimize your entire workflow by connecting Cloud9 voice with Symphony messaging, APIs, and broader integration capabilities – allowing you to maintain context and move faster.
Turn-key integrations with leading transcription, compliance, storage and analytics partners support critical trading insights and enhanced workflows.
Instant Voice — Symphony product demo
Integrated voice collaboration breaks down communication silos with seamless transition from chat to voice, adding speed and efficiency to everyday interactions.

Cross-organizational connectivity provides instant voice communication with teams on Symphony as well as the Cloud9 network.
Compliance-enabled and cloud-based, Instant Voice leverages Cloud9's open APIs and turn-key integrations to bolster recordkeeping, storage and analytics capabilities.
Get started with Symphony
We're happy to answer questions and get you acquainted with Symphony and our family of products including Cloud9, StreetLinx and Amenity Analytics.